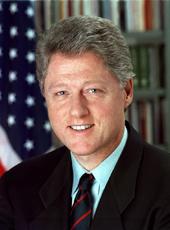 Proclamation 6751—Thanksgiving Day, 1994
By the President of the United States of America
A Proclamation
As the end of another year draws closer, we are again filled with thankfulness for the blessings of a fruitful land. For more than 200 years, Americans have welcomed autumn's harvest with gratitude and goodwill. On Thanksgiving Day, we set aside our daily routines to acknowledge the bounty and mercy of Divine Providence. With full hearts, we bask in the warmth of family and community gatherings, and we reflect on the challenge, responsibility, and privilege that are ours as citizens of these United States.
It is our great fortune to live in a country of abundance and promise—a land of freedom for all. Still only a few generations removed from our Nation's founders, we continue to blaze a trail toward stability and justice. Aspiring to lift ourselves closer to God's grace, we remain determined to ease the pain of the many people who know only poverty and despair. Clearly, ours is an unfinished journey.
Our destination must be to create the means for every one of us to prosper, to enjoy sound education, meaningful work experience, protective health care, and personal security. It is our responsibility to prompt the national conscience so that by fostering virtue, wisdom, and moral values, we rejoice in our growth as a people.
Our challenge is to give assistance and encouragement that are equitable and just and that alleviate human suffering. Our responsibility is to nurture the processes of peace and equal human rights everywhere with compassion and concern. And like other pioneers before us, it is our privilege to be able to aim toward lofty goals.
Across this land as people gather together with loved ones to savor the bounty of the Thanksgiving Holiday, I invite each family, each religious congregation, each community and city, to celebrate your experience of the American heritage. Reach out in friendship and cooperation to the people of your hometown. Take responsibility for bringing harmony and hope, peace and prosperity to all of the inhabitants of our world. Share the privileges of freedom and the challenge of working for a better world.
Now, Therefore, I, William J. Clinton, President of the United States of America, by virtue of the authority vested in me by the Constitution and laws of the United States, do hereby proclaim Thursday, November 24, 1994, as a National Day of Thanksgiving. I urge the citizens of this great Nation to continue this beloved tradition and to strengthen it by gathering in their homes and places of worship to express their heartfelt gratitude for the many blessings of our lives.
In Witness Whereof, I have hereunto set my hand this twenty-seventh day of October, in the year of our Lord nineteen hundred and ninety-four, and of the Independence of the United States of America the two hundred and nineteenth.



WILLIAM J. CLINTON
William J. Clinton, Proclamation 6751—Thanksgiving Day, 1994 Online by Gerhard Peters and John T. Woolley, The American Presidency Project https://www.presidency.ucsb.edu/node/217889