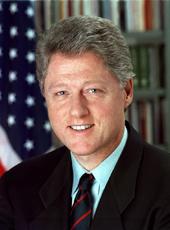 Proclamation 6615—National Mammography Day, 1993
By the President of the United States of America
A Proclamation
Breast cancer is an insidious disease that takes the lives of far too many women. This year alone, 182,000 American women are expected to develop breast cancer, and 46,000 will die of this disease. The risk of death from breast cancer is significantly reduced when the cancer is found in the earlier, more treatable stages of development. If women follow early detection guidelines, we should see a 30-percent drop in the breast cancer death rate. We all must work to ensure that every woman is informed about the serious risk of breast cancer and about the importance of regular breast exams and screening mammography. Most important, these health care procedures must be within the reach of all women.
The high survival rates of women who are diagnosed as having early stage breast cancer have motivated health professionals and other concerned citizens to focus their educational efforts on the importance of early detection. Women can take an active role in the fight against breast cancer through clinical breast exams, breast self-examination, and mammography. In many cases, cancers can be seen on a mammogram up to 2 years before they could be detected by a woman or her physician. The key to that advantage, however, is access to such screening.
I am pleased that third-party reimbursement for mammography is increasing, allowing more women to benefit from this lifesaving procedure. Through Medicare, the Department of Health and Human Services covers much of the cost of screening mammography for women 65 and older. Most states and the District of Columbia now have laws requiring private insurers to offer coverage for this procedure. I urge every State government, insurance company, medical facility, and business to develop policies that ensure all women access to appropriate and affordable mammography. Of course, women must take responsibility for availing themselves of screening when it is available.
Likewise, health care professionals must make sure that their patients receive regular breast cancer screening. Businesses must offer screening to their employees in the form of insurance coverage or services offered. Community organizations and individuals not only must spread the word about the importance of early detection, but also must motivate women to get regular screenings.
I am heartened that we have the technology to discover breast cancer in its earliest stages, the means to motivate women to get regular mammograms, and the capability to treat early breast cancer successfully in most cases. These resources can save the lives of countless women. For the sake of American women and their loved ones, we all must strive to see that every woman is educated about early breast cancer detection and that she has access to all needed health care.
In recognition of the crucial role of mammography in the battle against breast cancer, the Congress, by House Joint Resolution 265, has designated October 19, 1993, as "National Mammography Day" and has authorized and requested the President to issue a proclamation in observance of this day.
Now, Therefore, I, William J. Clinton, President of the United States of America, do hereby proclaim October 19, 1993, as "National Mammography Day." I invite the Governors of the 50 States and the Commonwealth of Puerto Rico, the Mayor of the District of Columbia, and the appropriate officials of all other jurisdictions under the American flag to issue similar proclamations. I also ask health care professionals, private industry, advocacy groups, community associations, insurance companies, and all other interested organizations and individuals to observe this day by publicly reaffirming our Nation's continuing commitment to the control of breast cancer.
In Witness Whereof, I have hereunto set my hand this eighteenth day of October, in the year of our Lord nineteen hundred and ninety-three, and of the Independence of the United States of America the two hundred and eighteenth.



WILLIAM J. CLINTON
William J. Clinton, Proclamation 6615—National Mammography Day, 1993 Online by Gerhard Peters and John T. Woolley, The American Presidency Project https://www.presidency.ucsb.edu/node/227381