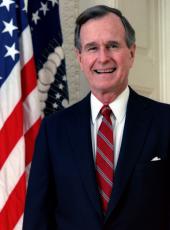 Proclamation 6509—National Education First Week, 1992
By the President of the United States of America
A Proclamation
Three years ago, beginning with our historic Education Summit with the Nation's Governors, we launched America 2000 -- an ambitious campaign to achieve excellence in our schools. Today more than 2,000 cities and towns throughout the United States and territories proudly count themselves as America 2000 communities, thanks to the shared commitment of parents, teachers, students, local public officials, and concerned business leaders. Recognizing the importance of education, not only as a treasure in itself, but also as the key to advancement for individuals and nations, these Americans are working to meet high standards in the classroom and to make their homes and neighborhoods places where learning can happen. As a result of this outpouring of support for our America 2000 strategy, we have begun to chart promising gains -- 7 years before our target date.
Since we launched America 2000, concerned individuals from all walks of life have responded enthusiastically to the challenge of building a new generation of American schools. Last year, when private sector leaders formed the New American Schools Development Corporation and announced a nationwide competition for the best school designs imaginable, nearly 700 teams submitted proposals. The Administration also pursued, and this July I was pleased to sign, the Higher Education Amendments of 1992, which will promote lifelong learning and achievement by expanding eligibility for student loans, by improving the accountability of student loan programs, and by providing for an alternative certification program through which States can devise ways to enlist the knowledge, experience, and skills of qualified men and women who want to teach yet lack traditional teaching degrees. In keeping with America 2000 and with our calls for increased competition and accountability in our Nation's schools, at least 10 States have expanded parental choice in education, and this year's report of the National Education Goals Panel shows that we have begun to increase the high school completion rate while, at the same time, significantly reducing drug use in and around our schools.
These developments are encouraging, and they are powerful testimony to the principles that guide our America 2000 strategy: greater parental choice and involvement in education; increased flexibility for teachers; high standards of student performance, verified by testing; competition and accountability in schools; and, of course, sustained cooperation among all Americans. However, even as we take justifiable pride in our progress, we know there is still much work to be done. In a world that demands excellence in science, technology, and commerce, America's economic competitiveness will remain at risk as long as our students are not among the best in the world. We must continue to reach out to the nearly 2,000 students who drop out of school each day, abandoning their best hope for a bright future, and we must continue to expand educational opportunities for the estimated 26 million Americans who are functionally illiterate. Toward these ends, concerned Americans in education, business, private voluntary organizations, and the media are joining together in observance of National Education First Week.
This week we renew our commitment to achieving excellence in education -- school by school, community by community. Millions of parents, educators, business owners, and volunteers are participating in this effort in support of our America 2000 strategy, and I salute them.
In recognition of the importance of learning to each American and to our Nation, the Congress, by House Joint Resolution 543, has designated the week of November 30 through December 6, 1992, as "National Education First Week" and has requested the President to issue a proclamation in observance of that week.
Now, Therefore, I, George Bush, President of the United States of America, do hereby proclaim the week of November 30 through December 6, 1992, as National Education First Week. I urge all Americans to observe this week with appropriate programs and activities.
In Witness Whereof, I have hereunto set my hand this twentieth day of November, in the year of our Lord nineteen hundred and ninety-two, and of the Independence of the United States of America the two hundred and seventeenth.



GEORGE BUSH
George Bush, Proclamation 6509—National Education First Week, 1992 Online by Gerhard Peters and John T. Woolley, The American Presidency Project https://www.presidency.ucsb.edu/node/268652