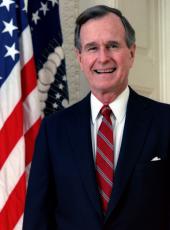 Proclamation 6497—National Red Ribbon Week for a Drug-Free America, 1992
By the President of the United States of America
A Proclamation
Through the comprehensive National Drug Control Strategy that we launched in 1989 and through the outstanding cooperation of Americans from all walks of life, the United States has made encouraging progress in the fight against illicit drugs. Nearly 9 out of 10 major American corporations have developed drug prevention programs for the workplace, and hundreds of communities have formed strong, grass-roots coalitions that are helping to get drug dealers off the streets while educating young people about the importance of leading healthy, drug-free life-styles. Together, Americans of all ages are saying an emphatic "No!" to drugs and to their devastating consequences -- crime, violence, unemployment, poverty, broken homes, and abandoned dreams.
Further progress in the fight against drugs is essential, and it will continue to require the strong personal commitment of each and every American. By working together, we can eliminate the "drug culture" that has infested too many of our communities, breeding a climate of fear and intimidation that is depriving millions of Americans of their freedom to live in peace and security.
National Red Ribbon Week for a Drug-Free America provides an opportunity for all Americans to express their commitment to the fight against drugs by wearing or displaying a red ribbon. This simple yet highly visible symbol identifies the wearer as part of a nationwide movement that is determined to uphold the right of every American to live and work in a drug-free community, to learn in a drug-free school, and to travel on drug-free streets and highways.
The National Federation of Parents for Drug-Free Youth, along with many other parents' associations, educators, law enforcement officials, and other concerned Americans, is leading this campaign to rally our communities and to protect our children from the deadly trap of dependency on drugs and alcohol. In keeping with its goal of enhancing public awareness, the Federation has selected the theme, "Neighbors -- Drug Free and Proud." Barbara and I are pleased to serve as Honorary Chairmen of the National Red Ribbon Campaign and urge our fellow Americans to join in cooperating with the many courageous law enforcement officers, parents, educators, and other dedicated individuals who are working so hard to stop the scourge of drugs.
The Congress, by House Joint Resolution 467, has designated the week beginning October 24, 1992, as "National Red Ribbon Week for a Drug-Free America" and has requested the President to issue a proclamation in observance of this week.
Now, Therefore, I, George Bush, President of the United States of America, do hereby proclaim the week beginning October 24, 1992, as National Red Ribbon Week for a Drug-Free America. I urge every American to observe this week by wearing or displaying the red ribbon as a sign of his or her commitment to a healthy, drug-free life-style. I also encourage all Americans to support community substance abuse prevention programs and other lifesaving anti-drug efforts throughout the year.
In Witness Whereof, I have hereunto set my hand this twenty-third day of October, in the year of our Lord nineteen hundred and ninety-two, and of the Independence of the United States of America the two hundred and seventeenth.



GEORGE BUSH
George Bush, Proclamation 6497—National Red Ribbon Week for a Drug-Free America, 1992 Online by Gerhard Peters and John T. Woolley, The American Presidency Project https://www.presidency.ucsb.edu/node/268618