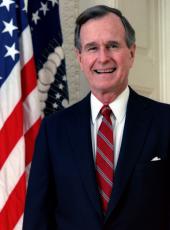 Proclamation 6380—Thanksgiving Day, 1991
By the President of the United States of America
A Proclamation
From the moment it was "conceived in liberty, and dedicated to the proposition that all men are created equal," our Nation has enjoyed the mercy and protection of Almighty God. Thus, when we join with family and friends on Thanksgiving, we celebrate not only the many blessings that we have received as individuals - including the gift of life itself - but also our great fortune as one nation under God. On this occasion, Americans of every race, creed, and walk of life are united by a profound sense of gratitude and duty.
As we continue the Thanksgiving tradition, a tradition cherished by every generation of Americans, we reflect in a special way on the blessings of the past year. When this Nation and its coalition partners took up arms in a last-resort effort to repel aggression in the Persian Gulf, we were spared the terrible consequences of a long and protracted struggle. Indeed, the millions of people who prayed for a quick end to the fighting saw those prayers answered with a swiftness and certainty that exceeded all expectations. During the past year, we have also witnessed the demise of communism and welcomed millions of courageous people into the community of free nations.
Of course, as we give thanks for these and other developments, we also remember the less fortunate - those who do not yet share in the promise of freedom; those who do not know the comfort of peace and security; and those whose tables do not reflect prosperity and plenty.
Time and again, Scripture describes our Creator's special love for the poor. As the Psalmist wrote, "He pours contempt upon princes … yet sets the poor on high from affliction." In this great nation, we have a special obligation to care for the ill and the destitute. Therefore, recalling that much will be asked of those to whom much has been given, let us resolve to make food drives and other forms of charity an increasingly important part of our Thanksgiving tradition.
On this occasion, as we count our blessings and reach out to help the less fortunate, we also do well to remember that, in many ways, the poorest nations are those who neither recognize nor revere what our Founders called "the laws of Nature and of Nature's God." Indeed, we have seen totalitarian regimes impoverish entire peoples, not just economically, but spiritually, by denigrating religion and by denying the inherent dignity and worth of individuals. The moral bankruptcy of communism should remind every free nation of the dangers of cynicism and materialism.
Similarly, can any individual be truly rich or truly satisfied if he or she has not discovered the rewards of service to one's fellowman? Since mot of us first experience the love of God through the goodness and generosity of others, what better gift could we give our children than a positive example?
Finally, as we gather with family and friends on Thanksgiving, we know that our greatest blessings are not necessarily material ones. Indeed, perhaps the best thing about this occasion is that it reminds us that God loves each and every one of us. Like a faithful and loving parent, He always stands ready to comfort, guide, and forgive. That is our real cause for Thanksgiving, today and every day of our lives.
Now, Therefore, I, George Bush, President of the United States of America, do hereby proclaim Thursday, November 28, 1991, as a National Day of Thanksgiving. I urge all Americans to gather together in their homes and in places of worship on that day to offer thanks to Almighty God for the many blessings that He has bestowed upon us as individuals and as a Nation.
In Witness Whereof, I have hereunto set my hand this twenty-fifth day of November, in the year of our Lord nineteen hundred and ninety-one, and of the Independence of the United States of America the two hundred and sixteenth.



GEORGE BUSH
George Bush, Proclamation 6380—Thanksgiving Day, 1991 Online by Gerhard Peters and John T. Woolley, The American Presidency Project https://www.presidency.ucsb.edu/node/267057