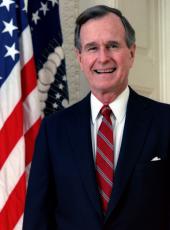 Proclamation 6374—National Red Ribbon Month, 1991
By the President of the United States of America
A Proclamation
During the month of November, we Americans pause to count our many blessings -- including the love of family and friends, the joy of freedom and security, and, of course, the gift of life itself. Thus, the holiday season that traditionally begins on Thanksgiving is a very special time of celebration and renewal.
Tragically, however, this time of peace and joy will become a time of mourning for far too many American families as a result of alcohol-related traffic accidents. Countless hopes and dreams will be destroyed this holiday season when drinking turns deadly behind the wheel.
Drunk driving often makes headlines during the holidays, but we must remember that this scourge is a year-round public health problem. Indeed, the Department of Transportation reports that traffic accidents remain the single leading cause of death for Americans between the ages of 5 and 32, and that almost half of these fatalities involve alcohol. In 1990 alone, more than 22,000 people died in alcohol-related motor vehicle accidents -- an average of one person every 24 minutes. Each year, another 345,000 persons are injured in drunk driving incidents.
The toll that alcohol-related accidents takes on Americans between the ages of 16 and 20 is especially alarming. Although in most States it is illegal for minors to purchase alcoholic beverages in any form, nearly half of all traffic fatalities in this age group stem from alcohol-related accidents. In 1990 alone, the lives of some 3,361 young men and women -- potential scientists, physicians, teachers, and parents -- were violently cut short.
The news is not all bad, however. In recent years, we have made encouraging progress in our efforts to stop drunk and drugged driving. According to the National Highway Traffic Safety Administration (NHTSA), alcohol-related fatalities among all adults have declined approximately 13 percent since 1982. The NHTSA also reports that, since 1984, when the Congress called on all States to raise their minimum legal drinking age to 21, alcohol-related deaths among youth have likewise dropped. Indeed, the law has saved the lives of about 1,000 young Americans between the ages of 16 and 20 every year.
This progress has been made possible by a combination of tougher laws at the Federal, State, and local levels and by concerted public awareness campaigns in both the public and private sectors. Nevertheless, we still have much work to do. Accordingly, our National Health Objectives for the year 2000 include targets for reducing the number of alcohol-related motor vehicle fatalities. We remain firmly resolved to reduce underage drinking, and we will continue to seek both the enactment and the enforcement of tougher laws against driving under the influence of alcohol or drugs.
Millions of concerned individuals across the United States have rallied in support of these and other measures against drunk driving. This month, the 3,000,000 members of Mothers Against Drunk Driving (MADD) will launch a major public awareness campaign by asking Americans to "Tie One on for Safety" during the upcoming holiday season. Members of MADD will distribute more than 90,000,000 red ribbons nationwide to remind all those who might get behind the wheel to think before they drink.
To help heighten public awareness of the dangers of drinking and driving, the Congress, by Senate Joint Resolution 188, has designated November 1991 as "National Red Ribbon Month" and has authorized and requested the President to issue a proclamation in observance of this month.
Now, Therefore, I, George Bush, President of the United States of America, do hereby proclaim November 1991 as National Red Ribbon Month. I urge all Americans to observe this month with appropriate programs and activities.
In Witness Whereof, I have hereunto set my hand this thirteenth day of November, in the year of our Lord nineteen hundred and ninety-one, and of the Independence of the United States of America the two hundred and sixteenth.



GEORGE BUSH
Note: This proclamation was published in the Federal Register on November 15.
George Bush, Proclamation 6374—National Red Ribbon Month, 1991 Online by Gerhard Peters and John T. Woolley, The American Presidency Project https://www.presidency.ucsb.edu/node/266346