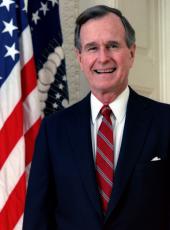 Proclamation 6364—National Breast Cancer Awareness Month, 1991
By the President of the United States of America
A Proclamation
Despite all we have learned about prevention, despite all of the advances that have been made in its diagnosis and treatment, breast cancer continues to kill thousands of American women each year. Stopping this tragic loss of life will require continued research as well as the sustained cooperation of scientists, health care professionals, educators, insurance providers, individual women, and other concerned Americans.
According to the American Cancer Society, women in the United States have never been at greater risk for breast cancer: an estimated one in nine women will develop the disease at some point in their lives. Fortunately, however, scientists across the country also note that much progress has been made in controlling breast cancer. Better and earlier treatment has helped more and more women who have contracted breast cancer to survive the disease.
Today we continue to rely on basic research to identify and develop improved means of preventing, diagnosing, and treating breast cancer. However, the knowledge yielded by basic research is only as helpful as our willingness and our ability to use it. If women are to benefit from advances in the diagnosis of breast cancer -- and if physicians are to succeed with early intervention and treatment -- then regular screenings for the disease are vital. Some scientists estimate that mortality from breast cancer could be reduced by almost one-third if women obtained mammograms as often as recommended by the National Cancer Institute. Women between the ages of 40 and 50 should have a mammogram every 1 to 2 years, and women over the age of 50 should have a mammogram annually. Screening mammography helps doctors to detect breast cancer at its earliest and most treatable stages. Women whose breast cancer is detected early also have more options to choose from when making crucial decisions about treatment.
During the past decade, we have welcomed many advances in the treatment of breast cancer, and more are on the horizon. The National Cancer Institute alone is supporting more than 70 breast cancer treatment studies at hospitals across the country. Pharmaceutical companies, academic institutions, and other organizations are funding additional studies. This month, we recognize the many dedicated women and men who are using their knowledge and skills to enhance our understanding of breast cancer; we salute the business owners who have provided breast cancer screening for employees; and we applaud the courage of the many women who have made public their experiences in dealing with breast cancer, thereby helping other victims.
To enhance public awareness of breast cancer and the importance of regular screenings for the disease, the Congress, by Senate Joint Resolution 95, has designated the month of October 1991 as "National Breast Cancer Awareness Month" and has authorized and requested the President to issue a proclamation in observance of this month.
Now, Therefore, I, George Bush, President of the United States of America, do hereby proclaim the month of October 1991 as National Breast Cancer Awareness Month. I also ask health care professionals, insurance providers, and employers -- indeed, all Americans -- to observe this month with appropriate programs and activities.
In Witness Whereof, I have hereunto set my hand this twenty-fourth day of October, in the year of our Lord nineteen hundred and ninety-one, and of the Independence of the United States of America the two hundred and sixteenth.



GEORGE BUSH
Note: This proclamation was published in the Federal Register on October 28.
George Bush, Proclamation 6364—National Breast Cancer Awareness Month, 1991 Online by Gerhard Peters and John T. Woolley, The American Presidency Project https://www.presidency.ucsb.edu/node/265938