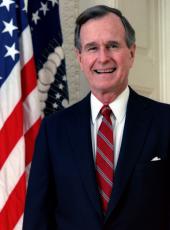 Proclamation 6341—National Forest Products Week, 1991
By the President of the United States of America
A Proclamation
Ever since this country's earliest inhabitants hunted game and gathered food in their deep shade, America's forests have provided man with vital sustenance, as well as wood for fuel and shelter. During National Forest Products Week, we reflect on the continuing importance of our Nation's forests and remind ourselves of the need to manage them with care.
From our celebrated national forests to our prized State parks, from our vast industrial timberlands to the small, privately owned woodlots of rural America, our country's forests provide a wealth of benefits. Various species of plants and animals thrive on these rich tracts of land. Individuals and families find in them a wonderful setting for camping and other recreational activities. Yet our forests provide more than habitat for wildlife and beauty for the eye. Wood and wood products are used to make a multitude of products, from the floors beneath our feet to the roofs over our heads. All of our paper products come from wood -- everything from the newspapers that help us stay informed to the stationery that helps us stay in touch with family, friends, and co-workers.
While today's antiques remind us that furniture made from wood can last for generations, scientists are demonstrating how wood products and derivatives can shape the look of tomorrow.
The development and use of forest products not only affect our personal comfort and well-being on a daily basis but also contribute substantially to our Nation's economy. According to the Department of the Interior, the forest industry employs nearly 1.6 million men and women, who together earn almost $43.6 billion in annual wages.
Given their contributions to our economy and to the livelihood of countless individuals and families, we must remember that our Nation's magnificent forests are, in many ways, precious and fragile. Trees can be destroyed needlessly by disease, by forest fires and other natural disasters, and by human carelessness. If we are to continue to meet a variety of consumer needs, our forests must be protected and renewed.
During the past 100 years, we have moved toward more efficient and responsible management of our forest resources. Indeed, through various methods (such as multiple-use and sustained yield management), we are helping nature to replenish our forests. State and local governments, private and voluntary organizations, and concerned individuals are promoting and participating in efforts to conserve and recycle paper products. Millions of people are also taking part in the America the Beautiful Initiative, helping to plant and maintain nearly 1 billion trees per year across the country, in both urban and rural areas. This month, let us acknowledge the importance of these efforts and renew our commitment to them.
In recognition of the value of our forests, the Congress, by Public Law 86 - 753 (36 U.S.C. 163), designated the week beginning on the third Sunday in October of each year as "National Forest Products Week" and authorized and requested the President to issue a proclamation in observance of this week.
Now, Therefore, I, George Bush, President of the United States of America, do hereby proclaim the week beginning October 20, 1991, as National Forest Products Week and encourage all Americans to observe that week with appropriate ceremonies and activities.
In Witness Whereof, I have hereunto set my hand this twenty-seventh day of September, in the year of our Lord nineteen hundred and ninety-one, and of the Independence of the United States of America the two hundred and sixteenth.



GEORGE BUSH
Note: This proclamation was published in the Federal Register on October 1.
George Bush, Proclamation 6341—National Forest Products Week, 1991 Online by Gerhard Peters and John T. Woolley, The American Presidency Project https://www.presidency.ucsb.edu/node/266634