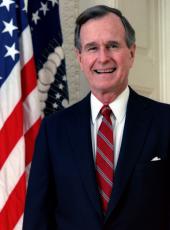 Proclamation 6286—National Day To Commemorate the 200th anniversary of the Polish Constitution of May 3, 1791
By the President of the United States of America
A Proclamation
On May 3, 1791, declaring their love of "national independence and freedom over life itself," brave Polish patriots adopted a national constitution for their homeland. This document was a resounding declaration of Poles' desire for liberty and self-government -- and it was a bold challenge to the foreign powers that had invaded and partitioned their country less than 20 years before.
One of the first written national constitutions in the world, the Polish Constitution of May 3, 1791, was modeled after our own. Even through the most difficult periods in Poland's history, it has remained a great and cherished symbol of the POlish people's devotion to democratic ideals.
We Americans gladly join in celebrating the 200th anniversary of this historic document because we are unitd with the Polish people by strong ties of kinship and culture and by a mutual love of liberty. These special bonds were affirmed in the "Declaration of Relations between the United States of America and the Republic of Poland," which President Lech Walesa and I signed on March 20, 1991.
Poles were among the first immigrants to come to these shores in search of freedom and opportunity, and they and their descendants have served and enriched our Nation in countless ways. Since the great polish heroes Tadeusz Kosciuszko and Kazimierz Pulaski helped to secure the Independence of our fledgling Republic, millions of other men and women of Polish extraction have likewise labored and sacrificed to help ensure the success of America's bold experiement in self-government, always inspiring others by their unshakable faith in God and in the promise of liberty under law.
In Poland, that faith has been tested by decades of often brutal repression. During the late 18th century Poland again fell prey to the expansionist aims of neighboring empires. Early in this century Poland enjoyed only a brief period of independence before being invaded by Nazi Germany and the Soviet Union in 1939. Nevertheless, despite decades of foreign domination and the declaration of martial law as recently as 1981, the people of Poland have held fast to their dream of freedom and self-determination.
Today the faith, courage, and tenacity of the Polish people are finally being rewarded. During the past 2 years the Poles have thrown off the heavy yoke of communism and under a new, democratically elected government have begun working to break the cycle of impoverishment and decline imposed by nearly half a century of totalitarian rule.
The United States wholeheartedly supports the Poles' courageous efforts to establish a free market economy and stable democratic rule in their country. Those efforts have required difficult decisions by the Polish leadership and great sacrifices by all Poles, and the United States has acted to assist Poland's historic transition in many ways.
The United States is pround to stand by our Polish friends as they work to transform their triumph over tyranny into lasting freedom and prosperity. Today we know that the promise of the Polish Constitution of May 3, 1791, is being fulfilled. On the occasion of its 200th anniversary, we salute and congratulate the courageus people of Poland, who have proved, once again, that "Poland is not lost while Poles still live."
The Congress, by House Joint Resolution 669 (Public Law 101-532), has designated May 3, 1991, as a day of commemoratin of the 200th anniversary of the Polish Constitution of May 3, 1791, and has authorized and requested the President to issue a proclamation in observance of this day.
Now, Therefore, I, George Bush, President of the United States of America, do hereby proclaim May 3, 1991, as a day of commemoration of the 200th anniversary of the adoption of the Polish Constitution of May 3, 1791. I call upon all Americans to observe this day with appropriate ceremonies and activities.
In Witness Whereof, I have hereunto set my hand this first day of May, in the year of our Lord nineteen hundred and ninety-one, and of the Independence of the United States of America the two hundred and fifteenth.



GEORGE BUSH
George Bush, Proclamation 6286—National Day To Commemorate the 200th anniversary of the Polish Constitution of May 3, 1791 Online by Gerhard Peters and John T. Woolley, The American Presidency Project https://www.presidency.ucsb.edu/node/268477