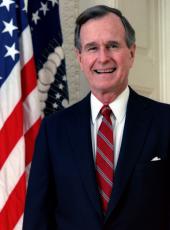 Proclamation 6220—National Awareness Month for Children With Cancer, 1990
By the President of the United States of America
A Proclamation
Thanks to the dramatic progress that has been made in early diagnosis and treatment of the disease, young cancer victims and their families no longer need to relinquish their dreams for the future. In many cases, advances in science and technology are bringing hope and healing where there once was only fear and loss.
According to the Department of Health and Human Services, the number of child deaths from cancer in the United States declined by 36 percent between 1973 and 1987 -- a significant change in a relatively short period of time. Today three out of every four children diagnosed with Hodgkin's disease are being cured. Since 1960, our ability to treat other serious forms of cancer such as Wilm's tumor and non-Hodgkins's lymphoma has improved markedly -- nearly 50 percent more children are living for at least five years after diagnosis. The Department also reports that the number of children surviving acute lymphocytic leukemia has risen by 25 percent since 1974.
Nevertheless, despite such encouraging progress, cancer continues to be the leading cause of death by disease among children between the ages of 3 and 14. Families facing the specter of childhood cancer need the best possible medical care and emotional support we can provide. Many need financial help as well. Every family touched by childhood cancer needs the support of its relative, neighbors, teachers, and clergy. Parents need the understanding and compassion of their employers, and brothers and sisters of young cancer victims need special consideration, both at home and in school. Young cancer patients themselves need every opportunity to express and pursue the fresh, unjaded dreams that are the hallmark of childhood.
Many private organizations and government agencies throughout the United States are working to meet the needs of children with cancer. The National Cancer Institute (NCI), operating within the Department of Health and Human Services, is the Federal Government's principal agency for cancer research. In cooperation with universities and research institutes throughout the Nation, the NCI is engaged in treatment studies for 14 types of childhood cancer. Yielding new and refined methods of treatment, these studies are helping to improve the prognoses for many young cancer victims. For example, many children whose bone cancer, in the past, might have required the amputation of an arm or leg can now benefit from surgical techniques that allow them to keep their limbs without diminished chances of survival.
In addition to advances in research and technology, rehabilitation programs are likewise helping to improve the quality of life enjoyed by young cancer patients. Recent breakthroughs in our understanding of the brain and nervous system, for example, are making it possible for many of those who nust use artificial limbs to control them by brain impulses.
Hundreds of private voluntary organizations at both the national and local levels -- including the American Cancer Society, the Candlelighters Childhood Cancer Foundation, the Leukemia Society of America, and the Ronald McDonald Foundation -- are helping parents and children to cope with the emotional and financial stresses created by cancer treatment and rehabilitation. Through the generosity of these and other groups, young cancer patients and their parents may obtain free air travel to treatment centers; parents may benefit from low-cost lodging while their little one is receiving treatment far from home; and youngsters themselves may have the opportunity to spend time at a special summer camp or to see an earnest wish fulfilled.
This month we recognize the dedication and hard work of all those scientists, health care professionals, and volunteers who are working to overcome childhood cancer and to assist its victims. We also reaffirm our admiration and support for the courageous youngsters and parents who struggle with this disease.
Now, Therefore, I, George Bush, President of the United States of America, by virtue of the authority vested in me by the Constitution and laws of the United States, do hereby proclaim October 1990 as National Awareness Month for Children with Cancer. I encourage all Americans to observe this month through appropriate programs, ceremonies, and activities.
In Witness Whereof, I have hereunto set my hand this thirtieth day of October, in the year of our Lord nineteen hundred and ninety, and of the Independence of the United States of America the two hundred and fifteenth.



GEORGE BUSH
George Bush, Proclamation 6220—National Awareness Month for Children With Cancer, 1990 Online by Gerhard Peters and John T. Woolley, The American Presidency Project https://www.presidency.ucsb.edu/node/268401