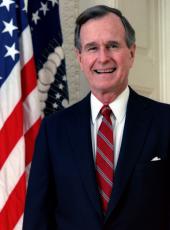 Proclamation 6171—National Drive for Life Weekend, 1990
By the President of the United States of America
A Proclamation
The Labor Day weekend is an ideal time to remind ourselves of the grave threat posed toeach of us by alcohol-impared driving -- a tragic and senseless occurrence that remains our Nations's number one highway safety problem. During this weekend, we should be especially mindful that irresponsible drinking can quickly destroy a festive holiday by causing injury and death.
Last year more than 23,000 people were killed in the United States as a result of alcohol-related highway crashes -- an average of 65 individuals each day. Although the proportion of traffic deaths related to alcohol has declined during the last few years, approximately one-half of all fatal motor vehicle crashes continue to be alcohol-related.
The Drive for Life campaign is designed to reduce the high number of alcohol-related traffic accidents in the United States by promoting a month-long public awareness program aimed at educating all Americans on the dangers of drunk driving. by focusing on the Labor Day weekend, when the number of alcohol-related highway crashes traditionally exceeds the average by about 10 percent, the Drive for Life campaign will help to concentrate the Nation's attention on the serious dangers of drunk driving.
During the Labor Day weekend and, indeed, throughout the year, we should also be mindful of the dangers posed by dravers who are imparied by drugs other than alcohol. Certain drugs -- legal as well as illegal, and either alone or in combination with alcohol -- are major contributors to highway crashes. All of us should be aware of the risks of driving after taking prescribed medications or over-the counter drugs, especially those that have labels warning against operating a motor vehicle. We should also be aware that combining drugs and alcohol with driving increases these risks.
Three years ago, a coalition led by Mothers Against Drunk Driving sponsored the first National Drive for Life Day and urged all Americans to pledge not to drink and drive on that day. The success of this effort prompted calls for an expanded campaign, to which the Congress responded in 1988 and 1989 by designating Labor Day weekend as National Drive for Life Weekend. By House Joint Resolution 627, the Congress has again called for a national campaign by designating the Labor Day weekend beginning September 1, 1990, as "National Drive for Life Weekend" and has authorized and requested the President to issue a proclamation in obsevance of this weekend.
Now, Therefore, I, George Bush, President of the United States of America, do hereby proclaim the Labor Day weekend, September 1 through 3, 1990, as National Drive for Life Weekend. I ask all Americans to cooperate in this lifesaving campaign by refusing to drink and drive, by using safety restraints when on the road, and by insisting upon effective action against drug- or alcohol-impaired drivers. I also call upon the people of the United States, their elected representatives, and other public officials to observe this weekend with appropriate ceremonies and activities.
In Witness Whereof, I have hereunto set my hand this twentieth day of August, in the year of our Lord nineteen hundred and ninety, and of the Independence of the United States of America the two hundred and fifteenth.



GEORGE BUSH
George Bush, Proclamation 6171—National Drive for Life Weekend, 1990 Online by Gerhard Peters and John T. Woolley, The American Presidency Project https://www.presidency.ucsb.edu/node/268322