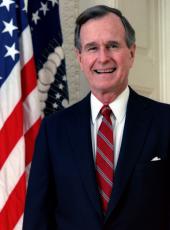 Proclamation 6133—Mother's Day, 1990
By the President of the United States of America
A Proclamation
For more than three-quarters of a century, we Americans have celebrated the second Sunday in May as Mother's Day. On this day, we pause to honor all those women who, by virtue of giving birth, or through marriage or adoption, are mothers.
::The mother's heart is the child's schoolroom," Henry Ward Beecher once wrote. Indeed, from his or her mother a child learns important lessons about love and loyalty, patience and generosity, personal responsibility, and respect for others. Because we remember these lessons for a lifetime, and because we carry them with us as members of a larger community, our mothers help to shape the character of our Nation.
A mother is not only her little one's first teacher, but also their first and greatest friend. Her name is often the first word a child utters; her voice is one of the sweetest sounds a child knows.
For some of us, childhood is now a precious memory, but our mothers continue to be as dear to us -- perhaps ever more so, as we become more profoundly aware of the many gifts they have given us over the years. The depth of a mother's devotion, demonstrated time and again in acts of tenderness and sacrifice, is unfathomable. Always faithful to her children, always willing to offer them reassurance and forgiveness, a mother provides a glimpse of the Divine Love that gives every human life dignity and meaning. This may well be our mother's greatest gift to us.
Shortly after the bombing of Pearl Harbor and the beginning of our Nation's involvement in World War II, and American minister noted that Mother's Day held special significance for a nation embroiled in bitter conflict. He wrote: "We are so grateful that on this beautiful day it is possible for the heart and soul of America to unite itself, irrespective of creed or color, of faith or race, into one great effort to bring this ideal of love before our hearts and minds again." At a time when the power of hatred seemed overwhelming, the unfailing strength of maternal love gave reason to believe that goodness would prevail.
Today we no longer face the cruel test of world war, but we still do well to reflect upon the example provided by our mothers. Their courage, faithfulness, and generosity must never fail to strengthen and inspire us.
In grateful recognition of the contributions of all mothers to their families and to the Nationa, the Congress, by a joint resolution approved May 8, 1914 (38 Stat. 770), has designated the second Sunday in May each year as "Mother's Day" and requested the President to call for its appropriate observance.
Now, Therefore, I, George Bush, President of the United States of America, do hereby proclaim that Sunday, May 13, 1990, be observed as Mother's Day. I urge all Americans to express their love and respect for their mothers and to reflect upon the importance of motherhood to the well-being of our country. I direct Federal officials to display the flag of the United States on all Federal buildings, and I urge all citizens to display the flag at their homes and other suitable places on that day.
In Witness Whereof, I have hereunto set my hand this tenth day of May, in the year of our Lord nineteen hundred and ninety, and of the Independence of the United States of America the two hundred and fourteenth.



GEORGE BUSH
George Bush, Proclamation 6133—Mother's Day, 1990 Online by Gerhard Peters and John T. Woolley, The American Presidency Project https://www.presidency.ucsb.edu/node/268218