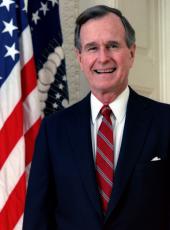 Proclamation 6117—National Recycling Month, 1990
By the President of the United States of America
A Proclamation
Recognizing the importance of proper solid waste management to protecting human health and the environment, many communities across the United States have launched effective recycling efforts. Many have established very successful voluntary programs. There now exist across the United States facilities for recycling scrap metals, paper, and glass.
Despite this progress, Americans are still not recycling enough municipal waste. It is estimated that only 10 percent of the Nation's municipal solid waste is recycled, while some 80 percent is deposited in landfills and some 10 percent is incinerated. Because the Nation is generating an increasing amount of solid waste each year -- currently 160 million tons annually -- the amount of available landfill space is dramatically decreasing.
Recycling municipal solid waste not only helps to preserve our limited landfill space, but also yields a number of other immediate and long-term benefits. For example, recycling reduces the need to remove additional resources from their natural environment and thus helps to prevent the environmental harm created by such extraction efforts. Recycling also saves energy and frequently provides a less costly alternative to landfills and incineration. The materials recovered through recycling can often be used by local communities to generate increased revenue.
Every American can play a role in solving the Nation's solid waste disposal problems by recycling -- either through municipal programs or through voluntary drives sponsored by local service organizations. Because recycling is not complete until recovered materials are used in manufacturing new products for consumer use, individuals, business owners, and government managers can contribute to recycling by purchasing such products and by supporting the development of markets for recycled goods.
Whether as a member of a private household, business, or civic organization, each of us can help to reach the goal of 25 percent waste reduction and recycling by 1992. While each community's ability to meet this goal may vary, such efforts constitute important strides toward eliminating America's solid waste problems.
In recognition of the importance of recycling solid waste, the Congress, by Senate Joint Resolution 250, has designated April 1990 as "National Recycling Month" and has authorized and requested the President to issue a proclamation calling for its appropriate observance.
Now, Therefore, I, George Bush, President of the United States of America, do hereby proclaim April 1990 as National Recycling Month. I urge the people of the United States to observe this month by undertaking recycling efforts in their own households and businesses, by actively participating in community recycling efforts, and by teaching their children about the benefits of such efforts. I also urge community leaders to consider the advantage of a comprehensive recycling program as a means of managing municipal solid waste.
In Witness Whereof, I have hereunto set my hand this twentieth day of April, in the year of our Lord nineteen hundred and ninety, and of the Independence of the United States of America the two hundred and fourteenth.



GEORGE BUSH
George Bush, Proclamation 6117—National Recycling Month, 1990 Online by Gerhard Peters and John T. Woolley, The American Presidency Project https://www.presidency.ucsb.edu/node/268194