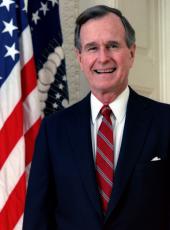 Proclamation 6109—Greek Independence Day: A National Day of Celebration of Greek and American Democracy, 1990
By the President of the United States of America
A Proclamation
On March 25, 169 years ago, Greece won its independence as a modern state. Each year, the United States is proud to join with our ally in commemoration of this historic date. In so doing, we also celebrate the commitment to freedom and democratic government we share today.
While American friends of Greece supported its struggle for independence, and while generations Greek immigrants have helped to strengthen and enrich the relationship between our two countries, our mutual devotion to democratic ideals is rooted far deeper in history. Some 2,500 years ago, Ancient Greek city-states helped to plant the seeds of democratic though among men. Indeed, the experience of the Greek poleis and the ideas of their great philosophers were a rich source of insight and inspiration for our Nation's Founders as they shaped a system of government for the United States. Thomas Jefferson expressed his gratitude for the illumination provided by the Ancient Greeks when he praised "the splendid constellation of sages and heroes . . . whose merits are still resting, as a heavy debt, on the shoulders of the living and the future races of men."
Recent events around the world have clearly demonstrated the timeless appeal of democratic ideals. Today we take pride in knowing that the resolve and unity of purpose shown by the United States, Greece, and other members of the NATO Alliance have inspired those struggling for the right the freedom and self-government. The triumphant flowering of democratic principles around the world is a tribute to the strength of our Alliance and to the determination and foresight of our ancestors.
As we join with the people of Greece in celebrating their National Day, we recall the sense of fellowship and gratitude conveyed by Thomas Jefferson when he wrote to the Greek patriot and educator, Adamantios Koraes: "Possessing ourselves the combined blessings of liberty and order, we wish the same to other countries, and to none more than yours, which, the first of civilized nations, presented examples of what man should be."
Recognizing the 169th Anniversary of Greek Independence and reaffirming the democratic values we share, the Congress, by Senate Joint Resolution 243, has designated March 25, 1990, as "Greek Independence Day: A National Day of Celebration of Greek and American Democracy" and has authorized and requested the President to issue a proclamation in observance of this event.
Now, Therefore, I, George Bush, President of the United States of America, do hereby proclaim March 25, 1990, as Greek Independence Day: A National Day of Celebration of Greek and American Democracy. I urge all Americans to join in appropriate ceremonies and activities to solute the Greek people and Greek Independence.
In Witness Whereof, I have hereunto set my hand this twentieth day of March, in the year of our Lord nineteen hundred and ninety, and of the Independence of the United States of America the two hundred and fourteenth.



GEORGE BUSH
George Bush, Proclamation 6109—Greek Independence Day: A National Day of Celebration of Greek and American Democracy, 1990 Online by Gerhard Peters and John T. Woolley, The American Presidency Project https://www.presidency.ucsb.edu/node/268188