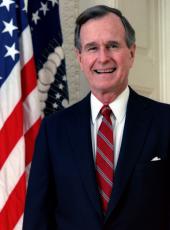 Proclamation 6043—National Domestic Violence Awareness Month, 1989
By the President of the United States of America
A Proclamation
Today, far too many American families, whose lives and homes should be blessed by tranquility and security, dwell instead under the terrifying shadow of domestic violence. Domestic violence is not just a series of simple disputes or family quarrels. It is not just an isolated incident or private matter to be quietly settled, forgiven, and forgotten. Domestic violence is a serious crime that tears at the fabric of the American family.
Each year, hundreds of thousands of Americans -- Americans of every age, race, and gender, and from every social, religious, and economic background -- are harmed in their homes by a loved one. It is estimated that one-third of all domestic violence incidents involve felonies, including rape, aggravated assult, and robbery. Domestic violence is the single largest cause of injury to women in the United States, and research has shown that persons who engage in one form of family violence are likely to engage in others. Researchers are just beginning to understand the extent of injuries suffered by men as a result of domestic violence, particularly in their advanced years.
The suffering of those children who are abused, or who witness incidents of domestic violence, is inestimable. Domestic violence deprives these little ones of the innoicence, joy, and security of childhood -- and nothing can replace their loss.
In recent years, the number of shelters and safehouses for battered adults and children has increased dramatically. This month, we recognize the dedicated professionals and volunteers who provide these vital services to the victims of domestic violence. These generous, hard-working men and women merit our respect and gratitude.
However, because many abused individuals continue to need assistance, we must also recognize the importance of supporting private and public efforts to aid victims of domestic violence. Public awareness and understanding of the needs of battered adults and children must be increased. This month, let us renew our determination to learn more about the problem of domestic violence and how each of us can help bring an end to it.
The Congress, by Senate Joint Resolution 133, has designated October 1989 as "National Domestic Violence Awareness Month" and has authorized and requested the President to issue a proclamation in observence of this month.
Now, Therefore, I, George Bush, President of the United States of America, do hereby proclaim October 1989 as National Domestic Violence Awareness Month. I urge all Americans to become more aware of the tragedy of domestic violence; to support and assist victims and those who are working to eliminate domestic violence in our land; and to participate in other appropriate efforts.
In Witness Whereof, I have hereunto set my hand this eleventh day of October, in the year of our Lord nineteen hundred and eighty-nine, and of the Independence of the United States of America the two hundred and fourteenth.



GEORGE BUSH
George Bush, Proclamation 6043—National Domestic Violence Awareness Month, 1989 Online by Gerhard Peters and John T. Woolley, The American Presidency Project https://www.presidency.ucsb.edu/node/268111