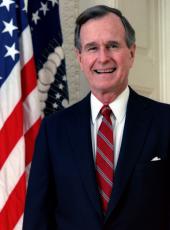 Proclamation 6039—National Children's Day, 1989
By the President of the United States of America
A Proclamation
Children are a great and precious blessing. Parents have no greater responsibility than to ensure that the young stranger God brings into their lives is welcomed, loved, nourished, and protected. As a Nation, we have no greater obligation than to help provide every child with the opportunity to grow up healthy, safe, and well-educated.
Children not only bring joy to their families; they also bring a sense of hope and purpose to the entire Nation. Parents, grandparents, and all adults can, and do, learn a great deal from the young. As we assist a child who is struggling to complete the tasks we take for granted, we are reminded of the importance of being gentle and patient. Fascinated by the countless little miracles of creation, which we grown-ups so often overlook as we rush to meet the demands of the adult world, children help us to see the world around us as if it were fresh and new. Filled with imagination and dreams, they take us into the future -- and inspire us to be responsible for it.
As a Nation, we owe it to our children to encourage and help parents and families. Family life is important in promoting not only each child's spiritual, social, and intellectual growth, but also the strength of our Nation. When the hope and trust of a child are violated or destroyed, so, too, is a portion of the promise that he or she holds for our country's future. Because parents are a child's first and best friends, and because home is his or her first school, we must remain committed to policies and programs that recognize and reinforce the family as the primary source of the love and support that every child needs.
Children in the United States have the opportunity to grow up in a land of unparalleled prosperity and freedom. However, we must remember that our children need much more than material goods. We must also remember the importance of teaching them the difference between liberty and license, for one is rooted in respect for human dignity, while the other only diminishes it. Children need attention and affection and positive role models. It is important that parents take the time not only to give their children guidance, but also to listen to them. The greatest gifts we can share with our little ones are a love of learning, an appreciation for the power of faith and hard work, and a sense of personal responsibility and concern for others.
Children both affirm and inspire their parents' faith in the future. As parents, teachers, neighbors, and as a Nation, we must make every effort to ensure that young people's own faith is not jaded by abuse or neglect or simple indifference. So, today, as we honor children, let us also renew our determination to ensure that they receive all the love, protection, and encouragement they need and deserve.
The Congress, by House Joint Resolution 132 (Public Law 101-52), has designated the second Sunday in October 1989 as "National Children's Day" and has authorized and requested the President to issue a proclamation in observance of that day.
Now, Therefore, I, George Bush, President of the United States of America, do hereby proclaim October 8, 1989, as National Children's Day. I call upon the American people to observe that day with appropriate programs, ceremonies, and activities designed to honor children and to emphasize the importance of their well-being to our entire Nation. I also urge all Americans to reflect upon the importance of children to our families, as well as the importance of strong families to our children.
In Witness Whereof, I have hereunto set my hand this fifth day of October, in the year of our Lord nineteen hundred and eighty-nine, and of the Independence of the United States of America the two hundred and fourteenth.



GEORGE BUSH
George Bush, Proclamation 6039—National Children's Day, 1989 Online by Gerhard Peters and John T. Woolley, The American Presidency Project https://www.presidency.ucsb.edu/node/268104