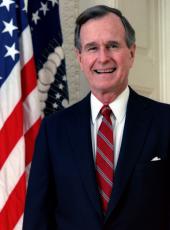 Proclamation 5971—World Trade Week, 1989
By the President of the United States of America
A Proclamation
At no other time in U.S. history has international commerce been so important to domestic economic growth. Increased exports mean prosperity for America. World Trade Week provides an excellent opportunity for American business men and women to reaffirm their commitment to the pursuit of export markets.
Trade figures for the past year indicate that American businesses are moving in the right direction. U.S. export performance during 1988 was responsible for the highest growth rate this decade and the largest reduction in the trade deficit in history. During 1988, U.S. merchandise exports grew 28 percent, reaching record levels ($320 billion). These exports generated 40 percent of real GNP growth during the year and contributed to the creation of a near record number of jobs. An improved global economic climate and measurable improvements in the quality of American goods and services contributed to this promising export performance.
The favorable market conditions that made our goods and services competitive in 1988 continue to exist in 1989, and U.S. businesses must take full advantage of this situation. American industry can benefit substantially from trade opportunities created by recent events in the world marketplace. For example, when the historic United States-Canada Free-Trade Agreement entered into force on January 1, 1989, it heralded the beginning of a new era in America's economic relations with our largest trading partner. It also created abundant opportunities for U.S. firms to reach the market offered by our 26 million neighbors to the north.
The European Community's formation of a single market by the year 1992 has the potential to provide even more trading opportunities for American business. However, U.S. firms need to prepare for 1992 now if they are to realize greater export sales.
This Administration is committed to forging a partnership with our Nation's business community to help ensure continued economic prosperity and growth into the 1990's. Trade and U.S. competitiveness are top priorities. I am firmly committed to opening world markets to U.S. exports and promoting our free trade agenda on both multilateral and bilateral levels.
The United States led in initiating the current round of General Agreement on Tariffs and Trade (GATT) negotiations, and we shall remain vigilant in our efforts to ensure that the GATT negotiations result in a strengthened international trading system that creates new opportunities to expand trade and achieve economic growth.
We shall pursue our quest to eliminate unfair trade practices, and we shall also use the tools provided by the Congress in the Omnibus Trade and Competitiveness Act of 1988 to ensure an open world marketplace.
In short, this Administration will continue to do its part to ensure a strong economy into the 1990's. American business, however, must take the lead in meeting the important challenge of increasing our competitiveness in world markets.
Now, Therefore, I, George Bush, President of the United States of America, by virtue of the authority vested in me by the Constitution and laws of the United States, do hereby proclaim the week beginning May 21, 1989, as World Trade Week. I invite the businesses and workers of America to join together with the Federal Government in observance of World Trade Week. Together, we can ensure continued prosperity for our country through global trade.
In Witness Whereof, I have hereunto set my hand this fifth day of May, in the year of our Lord nineteen hundred and eighty-nine, and of the Independence of the United States of America the two hundred and thirteenth.



GEORGE BUSH
George Bush, Proclamation 5971—World Trade Week, 1989 Online by Gerhard Peters and John T. Woolley, The American Presidency Project https://www.presidency.ucsb.edu/node/268820