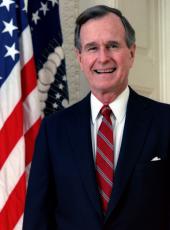 Proclamation 5949—Cancer Control Month, 1989
By the President of the United States of America
A Proclamation
Over the past several decades, extensive scientific research has contributed to dramatic victories in the fight against cancer. Today, more Americans are being cured of cancer than ever before, but we still face a major challenge: to use all we have learned about cancer prevention, detection, and treatment to save even more lives.
To attain our national goal of cutting in half the cancer rate by the year 2000, we must first curb tobacco use among all segments of society. Recent gains are evident on many fronts: Public awareness of the dangers of cigarette smoking continues to increase, and smoking prevalence rates among adults are at their lowest levels in 30 years. Most States have enacted laws restricting smoking in public places. Nevertheless, more than 50 million Americans still smoke or use smokeless tobacco. Efforts to deter young people from smoking should continue, and more can be done to help current smokers quit for good.
We now know that certain foods, notably fruits, vegetables, and whole-grain breads and cereals, may help prevent a variety of cancers. While most people believe diet and nutrition influence one's chances of developing cancer, on a typical day four out of every ten Americans eat no fruit at all, and only one in five eats some form of high-fiber cereal, whole-grain bread, or dried peas or beans. We must teach people how to select and prepare healthy foods and convince them that a well-balanced diet can be affordable, appetizing, and convenient. And consumers should continue to request that healthy foods be made available where they shop and dine.
When cancer does develop, early detection of the disease vastly improves the chance of cure. A wide array of effective early detection techniques now exist, ranging from simple self-examination to sophisticated laboratory tests. Yet only 40 percent of women report ever having a mammogram to detect breast cancer, and less than 30 percent of men and women have ever had an exam to detect colorectal cancer. These findings underscore the importance of encouraging the public to seek cancer tests before symptoms appear and persuading physicians to follow the latest early cancer detection guidelines. Cooperation between health professionals and patients can add an important dimension in battle against cancer.
Finally, the knowledge gained from laboratory research and clinical trials can be an important source of information about cancer and how to control the disease. New treatments can cure many thousands of cancer patients. All sectors of the medical community are challenged to cooperate in transferring biomedical research results to patient's bedsides, a capability offered by the National Cancer Institute's PDQ [Physician Data Query] cancer treatment database and other information systems. State-of-the-art cancer therapies must become part of the usual care provided by community hospitals, where the vast majority of cancer patients go for treatment.
Whether through prevention, early detection, or treatment, the great promise of cancer control lies in a simple concept: teamwork. By pooling its resources, energies, and creativity, America can make significant progress in improving the chances of surviving cancer and reducing the threat to the general population.
In 1938, the Congress of the United States passed a joint resolution [52 Stat. 148, 36 U.S.C. 150] requesting the President to issue an annual proclamation declaring April to be Cancer Control Month.
Now, Therefore, I, George Bush, President of the United States of America, do hereby proclaim the month of April 1989 as Cancer Control Month. I invite the Governors of the fifty States and the Commonwealth of Puerto Rico, and the appropriate officials of all other areas under the American flag, to issue similar proclamations. I also ask health care professionals, the communications and food industries, community groups, and individual citizens to unite during the month to reaffirm publicly our Nation's continuing commitment to controlling cancer.
In Witness Whereof, I have hereunto set my hand this Sixth day of April, in the year of our Lord nineteen hundred and eighty-nine, and of the Independence of the United States of America the two hundred and thirteenth.



GEORGE BUSH
George Bush, Proclamation 5949—Cancer Control Month, 1989 Online by Gerhard Peters and John T. Woolley, The American Presidency Project https://www.presidency.ucsb.edu/node/268797