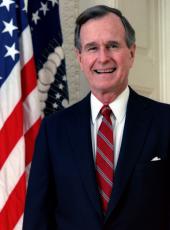 Proclamation 5945—Women's History Month, 1989 and 1990
By the President of the United States of America
A Proclamation
Women have written many proud pages in the history of the United States, throughout all areas of our national life. Women's History Month is a time to recognize those contributions and the critical role they have played in the preservation of the principles and values that all Americans hold dear.
Women have served with distinction in all professions; they have contributed to our Nation's prosperity in all fields of business; they have served our country with courage in time of conflict; they have educated and inspired our children; and they have figured prominently in all our great struggles for political and social reform. Today women play a major role in our public life -- they can be found working in the Congress, in the Cabinet, on the Supreme Court, and in our embassies around the world. Every aspect of our national life has been touched by the leadership, energy, and insight of outstanding American women.
This month, as we recall the achievements of prominent women in U.S. history, we also remember the quiet yet lasting contributions women have made to our society through the family, as volunteers in local charities or relief organizations, and as leaders in our churches. Women have demonstrated their great love for this country and have made that love real by their engagement in the lives of others. If any definition of a successful life must include service to others, countless women live successful lives. Through their tireless service on a daily basis, the women of our Nation have woven the fabric of families and communities. For it is the family and the local community that have always been our Nation's stronghold, the first and greatest source of Americans' civic pride and sense of duty. The women who have sustained these institutions throughout America's history have strengthened this country beyond measure.
The Congress, by House Joint Resolution 148, has designated the month of March 1989 and the month of March 1990 as "Women's History Month" and authorized and requested the President to issue a proclamation in observance of the events.
Now, Therefore, I, George Bush, President of the United States of America, do hereby proclaim March 1989 and March 1990 as Women's History Month. I call upon all Americans to observe these months with appropriate ceremonies and activities.
In Witness Whereof, I have hereunto set my hand this twenty-fourth day of March, in the year of our Lord nineteen hundred and eighty-nine, and of the Independence of the United States of America the two hundred and thirteenth.



GEORGE BUSH
George Bush, Proclamation 5945—Women's History Month, 1989 and 1990 Online by Gerhard Peters and John T. Woolley, The American Presidency Project https://www.presidency.ucsb.edu/node/268793