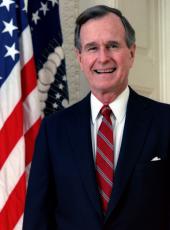 Proclamation 5939—Save Your Vision Week, 1989
By the President of the United States of America
A Proclamation
Vision is a precious gift -- one we too often take for granted until it is impaired or lost entirely. For thousands of Americans, this is a needless loss because sight-saving treatments are now available for many disorders that once cuased blindness. Gneerally, the earlier a disease is detected, the better the chance of interrupting its destructive process. Therefore, if we take some simple precautions, most of us can expect to enjoy good vision all of our lives.
A periodic examination by an eye-care professional is the best way to detect an eye problem before it imparis or destroys vision. This is especially important for young children; diabetics, who are at increased risk for several eye diseases; and older Americans, who are at higher risk for glaucoma, aging-related retinal degeneration, and cataracts.
Because visual problems in young children are often difficult to detect, a professional eye examination is vital. An untreated eye problem in a child may needlessly interfere with learning or play or lead to permanent visual loss. At a minimum, children should have their vision checked by their pediatrician, family physician, or an eye specialist at or before age four.
For the more than 11 million Americans who have diabetes, regular eye checkups are especially important for preventing loss of vision. For years, diabetic retinopathy has been the leading cause of new cases of blindness among middle-aged Americans. Now, however, improved treatments for this disease can save many thousands from blindness -- it treatment is begun early.
Because many aging-related eye diseases begin in the middle years, periodic eye examinations are important for everyone older than 40. For example, glaucoma can begin unnoticed in middle age and gradually progress to blindness. A simple, painless test to measure pressure within the eye is used to screen for possible glaucoma. If the disease is suspected, other tests are used to confirm the diagnosis. Dectected early, glaucoma usually can be controlled by medications before serious damage is done to the optic nerve.
Early detection of aging-related retinal disease is also important. Thanks to research supported by the Federal Government's National Eye Institute, laser treatment has been shown to be effective in preserving the reading vision of those with an advanced form of this disease.
The old adage about "an an ounce of prevention" is certainly true for eye injuries. Of the estimated 1.6 million eye injuries that occur each year, 90 percent are preventable -- by learning and following simple rules of eye safety in the workplace, athletic arena, home, or garden, we can prevent serious visual loss due to accident. For example, safety glasses worn while working with chemicals, or protective headgear while playing a contact sport, can mean the difference between a lifetime of good vision and permanently limited or lost eyesight.
To remind all Americans of the importance of proper eye care, the Congress, by joint resolution approved December 30, 1963 (77 Stat. 629, 36 U.S.C. 169a), has requested the President to proclaim the first week in March of each year as "Save Your Vision Week."
Now, Therefore, I, George Bush, President of the United States of America, do hereby designate the week of March 5 through March 11, 1989, as "Save Your Vision Week." I urge all Americans to participate in this observance by making eye care and eye safety an important part of their lives. I also invite eye-care professionals, the media, and all public and private organizations committed to public health to join in activities that will make Americans more aware of the steps they can take to protect their vision.
In Witness Whereof, I have hereunto set my hands this first day of March, in the year of our Lord nineteen hundred and eighty-nine, and of the Independence of the United States of America the two hundred and thirteenth.



GEORGE BUSH
George Bush, Proclamation 5939—Save Your Vision Week, 1989 Online by Gerhard Peters and John T. Woolley, The American Presidency Project https://www.presidency.ucsb.edu/node/216863