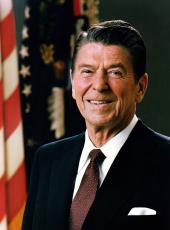 Proclamation 5873—World Food Day, 1988
By the President of the United States of America
A Proclamation
On World Food Day, the United States joins 150 other nations in reaffirming our determination to end world hunger. We Americans are a generous people, and we are blessed with the liberty and the bountiful natural resources that make prosperity and opportunity possible. Through private and public efforts, we gladly share our abundance in the fight against hunger; we have done so more generously than all other countries combined. This year, we are sending about $1.4 billion in food commodities abroad to help the hungry.
Some estimates suggest that one third of the people of the developing nations lack enough food to lead active working lives. That must change. Clearly, more needs to be done. Permanent progress in this regard will not be achieved, however, unless, along with remedial assistance, needy nations receive a transfusion of incentive- and market-based ideas. The tide of freedom and democracy now sweeping the globe offers the greatest long-term promise for success in the fight against hunger and economic stagnation.
Finding a lasting solution to world hunger requires agricultural and trade policies with one irreplaceable ingredient: freedom. Freedom alone can build economic progress, cooperation, and stability for nations at every level of development. We need to move toward a time when government intervention no longer distorts individuals' production and trade decisions. We also need thriving international markets to which all farmers have broad access.
That is something for all of us to remember this year especially, when World Food Day focuses on rural youth. These young people often migrate to the cities. We must develop policies that will encourage and enable them to remain in their agricultural and rural communities and improve their families' food productivity and income. Stabilization of developing countries' agricultural base accompanied by structural reforms to increase farmers' earnings are crucial steps in the drive to conquer hunger worldwide.
This October 16 marks the eighth successive year in which people everywhere have observed World Food Day. It is a day on which all Americans can resolve once again to wage and win the battle against world hunger.
In recognition of the desire and commitment of the American people to end world hunger, the Congress, by Senate Joint Resolution 336, has designated October 16, 1988, as "World Food Day" and authorized and requested the President to issue a proclamation in observance of that day.
Now, Therefore, I, Ronald Reagan, President of the United States of America, do hereby proclaim October 16, 1988, as World Food Day. I call upon the people of the United States to observe this day with appropriate activities to find and implement ways in which our Nation can better combat world hunger.
In Witness Whereof, I have hereunto set my hand this twenty-eighth day of September, in the year of our Lord nineteen hundred and eighty-eight, and of the Independence of the United States of America the two hundred and thirteenth.



RONALD REAGAN
Ronald Reagan, Proclamation 5873—World Food Day, 1988 Online by Gerhard Peters and John T. Woolley, The American Presidency Project https://www.presidency.ucsb.edu/node/252951