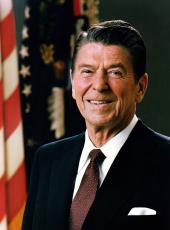 Proclamation 5872—General Pulaski Memorial Day, 1988
By the President of the United States of America
A Proclamation
Casimir Pulaski, Polish and American patriot, revolutionary, and hero, gave his life for liberty 209 years ago during America's War of Independence. Leading a cavalry assault at the siege of Savannah, he was mortally wounded. But the cause for which he fought so courageously was to prevail, and his immortal example of service and sacrifice was to inspire lovers of freedom around the globe forever after. America does well to pause in remembrance on the anniversary of General Pulaski's death and to swear eternal allegiance to the principles of liberty and justice he held dear.
Casimir Pulaski had also fought for liberty in Poland, his native land. When victory eluded the brave Polish people, he sought a kindred cause and found it in America. There "the shot heard 'round the world" had sounded warning to tyrants and hope to mankind. Like Polish patriots to this day, Pulaski knew that freedom's call is universal-that a battle for freedom anywhere is a battle for freedom everywhere; that liberty is diminished everywhere as long as tyranny reigns anywhere. In fighting for America, General Pulaski fought also for the unalienable rights to life, liberty, and the pursuit of happiness—rights that America had boldly declared, rights that God had granted Americans and Poles and all humanity alike.
America's struggle for freedom was victorious, thanks to Casimir Pulaski and to countless men and women like him. Tragically, freedom has not yet come to some nations, and it has been snatched from others. But freedom is on the move. Just as General Pulaski stood with us, so will we continue to stand for liberty throughout the globe. So will we stand for the people of Poland, in whose hearts faith and freedom and the spirit of Pulaski burn ever brightly. Let our observance of General Pulaski Memorial Day, 1988, remind us of all this Polish hero and his fellow Poles have done for America; let it remind us as well that his work and ours, the cause of freedom, goes on today and every day.
Now, Therefore, I, Ronald Reagan, President of the United States of America, by virtue of the authority vested in me by the Constitution and laws of the United States, do hereby proclaim Tuesday, October 11, 1988, as General Pulaski Memorial Day, and I direct the appropriate government officials to display the flag of the United States on all government buildings on that day. In addition, I encourage the people of the United States to commemorate this occasion as appropriate throughout our land.
In Witness Whereof, I have hereunto set my hand this twenty-eighth day of September, in the year of our Lord nineteen hundred and eighty-eight, and of the Independence of the United States of America the two hundred and thirteenth.



RONALD REAGAN
Ronald Reagan, Proclamation 5872—General Pulaski Memorial Day, 1988 Online by Gerhard Peters and John T. Woolley, The American Presidency Project https://www.presidency.ucsb.edu/node/252950