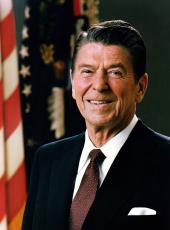 Proclamation 5751—National Pearl Harbor Remembrance Day, 1987
By the President of the United States of America
A Proclamation
On December 7, Americans everywhere commemorate the 46th anniversary of the morning in 1941 when our Armed Forces at Pearl Harbor, Hawaii, were subjected to a surprise aerial strike by the Imperial Japanese Navy. That attack killed 2,403 Americans and wounded 1,178 others—and caused our Nation to enter World War II.
America was unprepared for war, but we quickly resolved to do what must be done in defense of our country. Knowing that in war there can be no substitute for victory, the American people summoned a great national effort in military strength and industrial activity. The sacrifices of our military personnel at Pearl Harbor became the prelude to those our brave fighting forces were to endure around the globe for the next three and one-half years. When the terrible conflict ceased and the peace was won, America's freedom remained intact and we had taken on a crucial role as the leader of the world's democracies and bulwark of international peace.
On December 7, America remembers much and resolves much. We remember Pearl Harbor's dead and wounded and its courageous survivors who fought that day and many other days as well. We remember too one of history's clearest lessons, that weakness and unpreparedness do not build peace but invite aggression. We remember that our freedom, purchased at so dear a price, can be taken from us. And we resolve that that shall never be. We resolve that our strength, our vigilance, and our devotion will forever keep America the land of the free and the home of the brave. We resolve that we will keep faith with those we have loved and lost. And we resolve that, always, we will remember Pearl Harbor.
The Congress, by Senate Joint Resolution 105, has designated December 7, 1987, as "National Pearl Harbor Remembrance Day" and has authorized and requested the President to issue a proclamation in observance of this day.
Now, Therefore, I, Ronald Reagan, President of the United States of America, do hereby proclaim December 7, 1987, as National Pearl Harbor Remembrance Day, and I call upon the people of the United States to observe this solemn occasion with appropriate ceremonies and activities and to pledge eternal vigilance and strong resolve to defend our Nation and its allies from all future aggression.
In Witness Whereof, I have hereunto set my hand this seventh day of December, in the year of our Lord nineteen hundred and eighty-seven, and of the Independence of the United States of America the two hundred and twelfth.



RONALD REAGAN
Ronald Reagan, Proclamation 5751—National Pearl Harbor Remembrance Day, 1987 Online by Gerhard Peters and John T. Woolley, The American Presidency Project https://www.presidency.ucsb.edu/node/252141