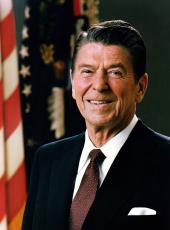 Proclamation 5680—Captive Nations Week, 1987
By the President of the United States of America
A Proclamation
For nearly three decades Captive Nations Week has symbolized the American people's solidarity with all throughout the world who courageously seek freedom and independence from Soviet domination. During this week, we recall that the liberties we enjoy are denied to many by the Soviet empire; and we publicly affirm our admiration for captive nations, who keep the light of freedom burning brightly as they oppose military occupation and brutal totalitarian oppression.
Our Nation offers the world a vision of inalienable political, religious, and economic rights. This vision has always been shared among peoples subjugated by Soviet imperialism; and so has resistance, ever the catalyst of liberty. Today, a struggle that began in Ukraine 70 years ago is taking place throughout the Soviet empire. In the last year alone, people have risen up to demand basic human rights in Czechoslovakia, East Germany, Hungary, Poland, Kazakhstan, Latvia, Moldavia, and among the Crimean Tatars. And across the globe, in Afghanistan, Angola, Cambodia, and Nicaragua, courageous freedom fighters battle tyranny. All captive nations deserve and require our special support. For those seeking to enjoy humanity's birthright of liberty, independence, and justice, we serve as guardians of their dream.
Thus, we must and will continue to speak out on the plight of captive nations. We will continue to call for the speedy release of the persecuted and the falsely imprisoned-people such as Gunars Astra, Lev Lukyanenko, Mart Niklus, and Viktoras Petkus. So long as brave individuals suffer because of their nationality, faith, and desire for human rights, the United States of America will demand that every signatory of the United Nations Charter and the Helsinki Accords live up to its obligations and respect the principles and spirit of these international agreements.
So that we who cherish liberty may proclaim our commitment to those to whom its blessings are presently denied, the Congress, by joint resolution approved July 17, 1959 (73 Stat. 212), has authorized and requested the President to issue a proclamation designating the third week in July of each year as "Captive Nations Week."
Now, Therefore, I, Ronald Reagan, President of the United States of America, do hereby proclaim the week beginning July 19, 1987, as Captive Nations Week. I call upon the people of the United States to observe this week with appropriate ceremonies and activities, and I urge them to reaffirm their devotion to the aspirations of all peoples for justice, self-determination, and liberty.
In Witness Whereof I have hereunto set my hand this seventeenth day of July, in the year of our Lord nineteen hundred and eighty-seven, and of the Independence of the United States of America the two hundred and twelfth.



RONALD REAGAN
Note: The proclamation was released by the Office of the Press Secretary on July 18.
Ronald Reagan, Proclamation 5680—Captive Nations Week, 1987 Online by Gerhard Peters and John T. Woolley, The American Presidency Project https://www.presidency.ucsb.edu/node/253560