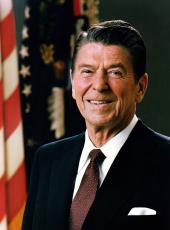 Proclamation 5676—Northwest Ordinance Bicentennial Day, 1987
By the President of the United States of America
A Proclamation
On July 13, we celebrate the Bicentennial of the Northwest Ordinance, considered one of the foundation documents of our Nation because it became a model for the Constitution and the Bill of Rights and because of its significance for the expansion of the Union.
The Confederation Congress adopted the Northwest Ordinance at the same time the Constitutional Convention in Philadelphia was drafting the new United States Constitution. The Ordinance embodied the highest ideals of a free people; its principles of civil liberty and its blueprint for national expansion so impressed the delegates to the Constitutional Convention that it became an important influence on the Constitution they were writing.
The Ordinance's arrangement for expansion included opening settlement of the area known as the Northwest Territory, providing civil government, and ensuring settlers the protection of Common Law under territorial government until permanent State governments could be created. States formed from the Territory—present-day Ohio, Indiana, Illinois, Michigan, Wisconsin, and part of Minnesota—would be organized and admitted into the Union "on an equal footing with the original States, in all respects whatsoever."
The Northwest Ordinance was vitally important for individual and civil rights in the United States. It forbade slavery in the Territory and guaranteed all citizens equality before the law. The Ordinance provided complete freedom of religion, the writ of habeas corpus, trial by jury, proportionate representation in the legislature, reasonable bail, no cruel or unusual punishment, and no deprivation of liberty or property but by the judgment of peers. The Ordinance also required full compensation for property or services taken for the common preservation and, in the just preservation of rights and property, forbade interference with bona fide private contracts and engagements.
Finally, the Northwest Ordinance recognized that religion, morality, and knowledge are all necessary elements for good government. It proclaimed that schools and the means of education would forever be encouraged to ensure the establishment of good government throughout the Territory.
In recognition of the importance of the Northwest Ordinance of 1787, the Congress, by House Joint Resolution 181, has authorized and requested the President to issue a proclamation calling upon the people of the United States to observe the Bicentennial of the enactment of this law.
Now, Therefore, I, Ronald Reagan, President of the United States of America, do hereby proclaim July 13, 1987, as Northwest Ordinance Bicentennial Day. I urge the people of the United States to observe this day with appropriate ceremonies and activities and to reflect on the role of the Northwest Ordinance in the Constitution whose Bicentennial we mark this year.
In Witness Whereof, I have hereunto set my hand this eighth day of July, in the year of our Lord nineteen hundred and eightyseven, and of the Independence of the United States of America the two hundred and twelfth.



RONALD REAGAN
Ronald Reagan, Proclamation 5676—Northwest Ordinance Bicentennial Day, 1987 Online by Gerhard Peters and John T. Woolley, The American Presidency Project https://www.presidency.ucsb.edu/node/253310