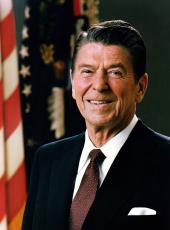 Proclamation 5634—Law Day, U.S.A., 1987
By the President of the United States of America
A Proclamation
For 30 years, as the United States has celebrated the first of May as Law Day, U.S.A., Americans have taken time to reflect on our legal heritage and the greatness it has brought to our Nation. This year, Law Day is of special significance because its theme, "We the People," highlights one of the most important observances of our time—the Bicentennial of the Constitution, our charter of liberty and justice under law.
Abraham Lincoln characterized our government as being "of the people, by the people, and for the people." The same can be said of the Constitution. It is the framework of our Republic, enshrining liberty for all alike. Two centuries ago, this immortal document was drafted by Americans who had fought a Revolution for the freedom they cherished and who shaped their dreams of freedom into a blueprint for a free Nation for a free people whose Godgiven liberties would never again be subject to the arbitrary dominance of any one individual.
The Preamble of our Constitution begins, "We the People of the United States, . . . do ordain and establish this Constitution for the United States of America." Here is the genius, the hope, and the promise of America forever and for all mankind: "We the People." In our Constitution, we the people tell government what it may do and what it may not; the people are sovereign, not the state. Thanks to our Constitution, the rule of law in the United States means the rule of the people. This is the difference between our Constitution and so many others; this is freedom.
Law Day, U.S.A., is a time to give thanks for our legacy of liberty under law and for the Constitution that preserves this priceless heritage—and to recall our sacred trust as Americans to protect our Constitution and our country as others have done for us.
Now, Therefore, I, Ronald Reagan, President of the United States of America, do hereby proclaim Friday, May 1, 1987, as Law Day, U.S.A. I urge the people of the United States to use this occasion to reflect on our Constitution and its protection of the rights and liberties of "We the People." I call upon the legal profession, schools, public bodies, libraries, courts, the communications media, business, the clergy, civic, service, and fraternal organizations, and all interested individuals and organizations to join in efforts to focus attention on the need for the rule of law. I also call upon all public officials to display the flag of the United States on all government buildings on Law Day.
In Witness Whereof I have hereunto set my hand this twenty-first day of April, in the year of our Lord nineteen hundred and eighty-seven, and of the Independence of the United States of America the two hundred and eleventh.



RONALD REAGAN
Ronald Reagan, Proclamation 5634—Law Day, U.S.A., 1987 Online by Gerhard Peters and John T. Woolley, The American Presidency Project https://www.presidency.ucsb.edu/node/252569