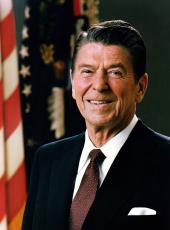 Proclamation 5608—National Year of Thanksgiving, 1987
By the President of the United States of America
A Proclamation
We, as a people, have been truly blessed, and for these blessings we should be everlastingly grateful to the God to Whose providence this Nation was committed from its very inception. President Washington issued a Thanksgiving Proclamation in 1789 "to recommend to the people of the United States a day of public thanksgiving and prayer to be observed by acknowledging with grateful heart the many signal favors of Almighty God, especially by affording them an opportunity peaceably to establish a form of government for their safety and happiness."
To remind us of our own rich heritage and the blessings of life in America, 1987 has been designated the National Year of Thanksgiving. It is no coincidence that this is the year in which we celebrate the 200th anniversary of our Constitution.
The early settlers of our country possessed a strength and a conviction based on their faith in God that helped them withstand the rigors and hardships of carving a nation out of wilderness. They laid a firm foundation built on the worth, dignity, and inalienable rights of the individual. For sustaining them and granting them success in bringing forth on this continent a new Nation, they praised the Almighty and His mercy.
Throughout our history our Presidents have summoned the Nation to continue this tradition of praise and thanksgiving. From George Washington kneeling in the snow at Valley Forge to Abraham Lincoln praying for the preservation of the Union to Franklin Roosevelt expressing confidence the prayers of mankind would bring us through to victory, we have turned with faith and trust to the One Who holds the whole wide world in His hands.
The national celebration of the Bicentennial of the Constitution also gives us an opportunity to remember and honor those who gathered in Philadelphia to forge a document that would provide a blueprint for this great Nation. Benjamin Franklin, the oldest member of the Assembly, reminded his fellow delegates that God had heard their prayers during their struggle for Independence. Should they not remember, he asked, that God governs in the affairs of men? "If a sparrow cannot fall without His notice," he urged them, "how can an empire rise without His aid?"
We look to the future of our Nation in this same spirit. Let us thank God for our constitutional form of government, for our precious freedoms of speech, assembly, religion, and the press, and for all those who sacrificed to preserve them in peace and in war for two centuries.
In recognition of the vital role that expressions of thanksgiving play in our national heritage, the Congress, by Public Law 99-265, has designated 1987 as a "National Year of Thanksgiving" and authorized and requested the President to issue a proclamation in observance of this event.
Now, Therefore, I, Ronald Reagan, President of the United States of America, do hereby proclaim 1987 as a National Year of Thanksgiving, and I urge all Americans during this year to celebrate and demonstrate our gratitude for God's blessings and to be grateful for our heritage and our future.
In Witness Whereof, I have hereunto set my hand this twelfth day of February, in the year of our Lord nineteen hundred and eighty-seven, and of the Independence of the United States of America the two hundred and eleventh.



RONALD REAGAN
Ronald Reagan, Proclamation 5608—National Year of Thanksgiving, 1987 Online by Gerhard Peters and John T. Woolley, The American Presidency Project https://www.presidency.ucsb.edu/node/251697