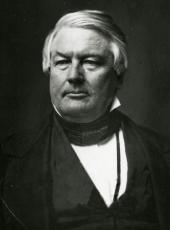 Proclamation 56—Calling On Citizens to Assist in the Recapture of a Fugitive Slave Arrested in Boston, Massachusetts
By the President of the United States of America
A Proclamation
Whereas information has been received that sundry lawless persons, principally persons of color, combined and confederated together for the purpose of opposing by force the execution of the laws of the United States, did, at Boston, in Massachusetts, on the 15th of this month, make a violent assault on the marshal or deputy marshals of the United States for the district of Massachusetts, in the court-house, and did overcome the said officers, and did by force rescue from their custody a person arrested as a fugitive slave, and then and there a prisoner lawfully holden by the said marshal or deputy marshals of the United States, and other scandalous outrages did commit in violation of law:
Now, therefore, to the end that the authority of the laws may be maintained and those concerned in violating them brought to immediate and condign punishment, I have issued this my proclamation, calling on all well-disposed citizens to rally to the support of the laws of their country, and requiring and commanding all officers, civil and military, and all other persons, civil or military, who shall be found within the vicinity of this outrage, to be aiding and assisting by all means in their power in quelling this and other such combinations and assisting the marshal and his deputies in recapturing the above-mentioned prisoner; and I do especially direct that prosecutions be commenced against all persons who shall have made themselves alders or abettors in or to this flagitious offense; and I do further command that the district attorney of the United States and all other persons concerned in the administration or execution of the laws of the United States cause the foregoing offenders and all such as aided, abetted, or assisted them or shall be found to have harbored or concealed such fugitive contrary to law to be immediately arrested and proceeded with according to law.
Given under my hand and the seal of the United States this 18th day of February, 1851.
MILLARD FILLMORE.
DANL. WEBSTER,
Secretary of State.
Millard Fillmore, Proclamation 56—Calling On Citizens to Assist in the Recapture of a Fugitive Slave Arrested in Boston, Massachusetts Online by Gerhard Peters and John T. Woolley, The American Presidency Project https://www.presidency.ucsb.edu/node/201048