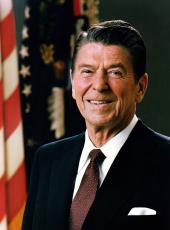 Proclamation 5357—Captive Nations Week, 1985
By the President of the United States of America
A Proclamation
The unique and historic significance of our Nation has always derived from our role as a model of political freedom, social justice, and personal opportunity. While not a perfect Nation, we have offered to the world a vision of liberty. It is a vision that has motivated all our national endeavors and serves us yet as an anchor of conscience. The humanity and justice of our collective political life and the freedom and limitless opportunity in our personal lives are an inspiration for the peoples of the world, both for those who are free to aspire and for those who are not.
The uniqueness of our vision of liberty comes not only from its historical development, but also from the conviction that the benefits of liberty and justice rightfully belong to all humanity. Hostility to this fundamental principle still haunts the world, but our conviction that political freedom is the just inheritance of all nations and all people is firm. Our dedication to this principle has not been weakened by the sad history of conquest, captivity, and oppression to which so many of the world's nations have been subjected.
We are all aware of those many nations that are the victims of totalitarian ideologies, ruthless regimes, and occupying armies. These are the nations held captive by forces hostile to freedom, independence, and national self-determination. Their captivity and struggle against repression require a special courage and sacrifice. Those nations of Eastern Europe that have known conquest and captivity for decades; those struggling to save themselves from communist expansionism in Latin America; and the people of Afghanistan and Kampuchea struggling against invasion and military occupation by their neighbors: all require our special support. For those who seek freedom, security, and peace, we are the custodians of their dream.
Our Nation will continue to speak out for the freedom of those denied the benefits of liberty. We will continue to call for the speedy release of those who are unjustly persecuted and falsely imprisoned. So long as brave men and women suffer persecution because of their national origin, religious beliefs, and desire for liberty, the United States of America will demand that the signatories of the United Nations Charter and the Helsinki Accords live up to their obligations and respect the principles and spirit of those international agreements and understandings.
Each year we renew our resolve to support the struggle for freedom throughout the world by observing Captive Nations Week. It is a week in which all Americans are asked to remember that the liberties and freedoms which they enjoy as inherent rights are forbidden to many nations. It is a time to affirm publicly our convictions that, as long as the struggle from within these nations continues, and as long as we remain firm in our support, the light of freedom will not be extinguished. Together with the people of these captive nations, we fight against military occupation, political oppression, communist expansion, and totalitarian brutality.
The Congress, by joint resolution approved July 17, 1959 (73 Stat. 212), has authorized and requested the President to designate the third week in July as "Captive Nations Week."
Now, Therefore, I, Ronald Reagan, President of the United States of America, do hereby proclaim the week beginning July 21, 1985, as Captive Nations Week. I invite the people of the United States to observe this week with appropriate ceremonies and activities to reaffirm their dedication to the international principles of justice and freedom, which unite us and inspire others.
In Witness Whereof, I have hereunto set my hand this 19th day of July, in the year of our Lord nineteen hundred and eighty-five, and of the Independence of the United States of America the two hundred and tenth.



RONALD REAGAN
Ronald Reagan, Proclamation 5357—Captive Nations Week, 1985 Online by Gerhard Peters and John T. Woolley, The American Presidency Project https://www.presidency.ucsb.edu/node/260094