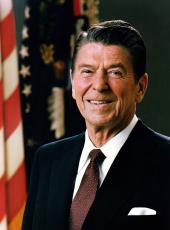 Proclamation 5267—United Nations Day, 1984
By the President of the United States of America
A Proclamation
The founding of the United Nations 39 years ago offered new hope that international political, economic, social and technical cooperation could be achieved in a more peaceful world. That hope remains, though we are aware of the difficulties in turning it into reality. The deeply rooted political conflicts that divide nations have at times prevented the proper use of the United Nations for the practical expression of the principles embodied in its Charter. We have been particularly disappointed with some of the actions taken at the United Nations in recent years, actions which fall far short of the high ideals on which that organization was founded.
The United States nonetheless continues to place considerable importance on the United Nations as the body designed to afford all nations opportunities for the peaceful settlement of disputes and for the promotion of technical cooperation in such areas as aviation, shipping, telecommunications, postal services and agriculture. It is the hope of the United States that the UN will live up to its founding principles and create the conditions which will encourage nations to cooperate for the furtherance of their common interests. It is vital that all member nations do their part in pursuit of this goal, that the principle of universality be upheld in UN actions, and that with respect to human rights all states be held to a single standard of justice.
The people and government of the United States feel a close identification with the mission of the United Nations and watch closely what happens there. We take seriously the content of the speeches made in the United Nations, and we take careful note of the votes cast by member countries. We are keenly conscious of the importance of the United Nations to the world community. With the experience gained from the past 39 years, we will work with other member nations to maintain international peace and security, to develop friendly relations among nations based on mutual respect, to find solutions to the problems that divide us, and to promote respect for the human rights of every individual.
Now, Therefore, I, Ronald Reagan, President of the United States of America, do hereby proclaim Wednesday, October 24, 1984, as United Nations Day and urge all Americans to acquaint themselves better with the activities and accomplishments of the United Nations. I have appointed Theodore A. Burtis to serve as 1984 United States Chairman for United Nations Day, and I welcome the role of the United Nations Association of the United States of America in working with him to celebrate this special day.
In Witness Whereof, I have hereunto set my hand this nineteenth day of October, in the year of our Lord nineteen hundred and eighty-four, and of the Independence of the United States of America the two hundred and ninth.



RONALD REAGAN
Ronald Reagan, Proclamation 5267—United Nations Day, 1984 Online by Gerhard Peters and John T. Woolley, The American Presidency Project https://www.presidency.ucsb.edu/node/260913