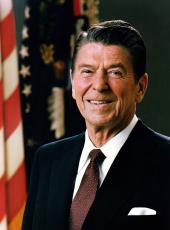 Proclamation 5251—National Spina Bifida Month, 1984
By the President of the United States of America
A Proclamation
Spina bifida is among the most common birth defects. Between one and two of every 1,000 babies in the United States are born with this problem. Infants with spina bifida may have incompletely developed spinal cords and suffer varying degrees of muscle paralysis and spine and limb deformities. Most develop hydrocephalus—a potentially dangerous buildup of fluid and pressure within the brain.
Thirty years ago the majority of children with spina bifida died. Today, thanks to Federal and private programs of biomedical research, medical and surgical management of spina bifida has advanced to the point that nearly all children survive. But some of these survivors face various potential problems, including lack of mobility, incontinence, and learning difficulties. Once again, research has provided answers: early surgical closure of spinal defects to reduce the development of infection and hydrocephalus; improved neurosurgical techniques for relieving pressure on the brain; better antibiotics for treating life-threatening infections; lighter braces to aid in mobility; and new techniques to control bladder function.
Further improvements may be expected to result from research supported by the Federal government's National Institute of Neurological and Communicative Disorders and Stroke and the National Institute for Child Health and Human Development. Voluntary agencies including the Spina Bifida Association of America, the March of Dimes Birth Defects Foundation, and the National Easter Seal Society are also involved.
For the many investigators supported by these organizations, the greatest challenge is to find the cause of this crippling birth defect and develop ways to prevent it. Scientists working toward these goals are studying the formation of the spinal cord and factors that might influence its abnormal development.
In order to focus attention on the needs of spina bifida children for long-term care and on the emotional and financial difficulties faced by their parents, the Congress, by Senate Joint Resolution 275, has designated October 1984 as "National Spina Bifida Month" and authorized and requested the President to issue a proclamation in observance of the month.
Now, Therefore, I, Ronald Reagan, President of the United States of America, do hereby proclaim October 1984 as National Spina Bifida Month, and I call upon all government agencies, health organizations, and the people of the United States to observe this month with appropriate ceremonies and activities.
In Witness Whereof, I have hereunto set my hand this fifth day of October, in the year of our Lord nineteen hundred and eighty-four, and of the Independence of the United States of America the two hundred and ninth.



RONALD REAGAN
Ronald Reagan, Proclamation 5251—National Spina Bifida Month, 1984 Online by Gerhard Peters and John T. Woolley, The American Presidency Project https://www.presidency.ucsb.edu/node/260581