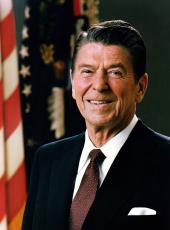 Proclamation 4900—The 250th Anniversary of the Birth of George Washington
By the President of the United States of America
A Proclamation
This month we commemorate the two hundred and fiftieth anniversary of the birth of George Washington, victorious commander of the American Revolution, chief advocate and President of the Constitutional Convention, and first President of the United States, unquestionably one of our greatest leaders.
His considerable wisdom, unflagging energy, dogged perseverance, profound faith in God, clear vision, and unswerving dedication to democratic principles contributed indispensably to the success of the American Revolution, the formulation and ratification of the United States Constitution and the establishment of the United States as a democratic federal republic.
As a soldier, he provided determined leadership, inspiring his men and sharing their lot in times of adversity. He took a group of farmers, tinkers, and store clerks and forged them into the Continental Army, a fighting instrument able to meet and best the finest professional troops in the world. Trusting in the rightness of his cause and, as he put it, in "the miraculous care of Providence," he proved his valor by leading his men into battle time after time during the long years of war.
As a citizen, he exemplified the ideal of the soldier in a democratic society, resigning his commission at war's end and retiring to the private pursuits of his beloved home, Mount Vernon. Yet, in his great vision, he saw the need for a better form of government, which would bind the sovereign States into an indissoluble Federal Union, while at the same time preserving and enhancing their unique role. To this end, he sponsored the Mount Vernon Conference, which led ultimately to the Philadelphia Convention in 1787.
As a statesman, he made his greatest and most lasting contribution to our American Nation. He presided with both tact and firmness over the Philadelphia Convention, guiding its members in drafting our charter of government so aptly described as the most important document ever composed by the hand of man at one time. Finally, heeding the call of his fellow citizens, he served as first President of the United States, setting precedents and establishing a standard to which all his successors can honorably aspire.
Now, Therefore, I, Ronald Reagan, President of the United States of America, do hereby proclaim February 22, 1982, as a Day of National Celebration of the two hundred and fiftieth Anniversary of the Birth of George Washington. I urge the people of the United States, in their homes, schools, and places of work, to join me in commemorating the birth of George Washington by reflecting on the character and accomplishments of this great man and his incalculable contributions to the establishment of this Nation. Let us rededicate ourselves to the fulfillment of his ideals and his faith in the people and resources of the United States.
In Witness Whereof, I have hereunto set my hand this twenty-second day of February, in the year of our Lord nineteen hundred and eighty-two, and of the Independence of the United States of America the two hundred and sixth.



RONALD REAGAN
Ronald Reagan, Proclamation 4900—The 250th Anniversary of the Birth of George Washington Online by Gerhard Peters and John T. Woolley, The American Presidency Project https://www.presidency.ucsb.edu/node/245205