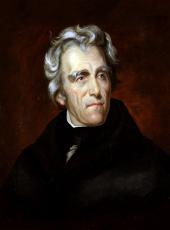 Proclamation 42—Ordering Persons to Remove From Public Lands in Arkansas
By the President of the United States of America
A Proclamation
Whereas information has been transmitted to the President of the United States by the governor of the Territory of Arkansas that certain persons pretending to act under the authority of the Mexican Government, and without any lawful right or power derived from that of the United States, have attempted to and do survey, for sale and settlement, a portion of the public lands in said Territory, and particularly in the counties of Lafayette, Sevier, and Miller, and have presumed to and do administer to the citizens residing in said counties the oath of allegiance to the said Mexican Government; and
Whereas such acts and practices are contrary to the law of the land and the provisions of the act of Congress approved the 3d day of March, A. D. 1807, and are offenses against the peace and public tranquillity of the said Territory and the inhabitants thereof:
Now, therefore, be it known that I, Andrew Jackson, President of the United States, by virtue of the power and authority vested in me in and by the said act of Congress, do issue this my proclamation, commanding and strictly enjoining all persons who have unlawfully entered upon, taken possession of, or made any settlement on the public lands in the said counties of Lafayette, Sevier, or Miller, or who may be in the unlawful occupation or possession of the same, or any part thereof, forthwith to depart and remove therefrom; and I do hereby command and require the marshal of the said Territory of Arkansas, or other officer or officers acting as such marshal, from and after the 15th day of April next to remove or cause to be removed all persons who may then unlawfully be upon, in possession of, or who may unlawfully occupy any of the public lands in the said counties of Lafayette, Sevier, or Miller, or who may be surveying or attempting to survey the same without any authority therefor from the Government of the United States; and to execute and carry into effect this proclamation I do hereby authorize the employment of such military force as may be necessary pursuant to the act of Congress aforesaid, and warn all offenders in the premises that they will be prosecuted and punished in such other way and manner as may be consistent with the provisions and requisitions of the law in such case made and provided.
Done at the city of Washington, this 10th day of February, A. D. 1831, and of the Independence of the United States of America the fifty-fifth.
ANDREW JACKSON.
By the President.
Andrew Jackson, Proclamation 42—Ordering Persons to Remove From Public Lands in Arkansas Online by Gerhard Peters and John T. Woolley, The American Presidency Project https://www.presidency.ucsb.edu/node/201744