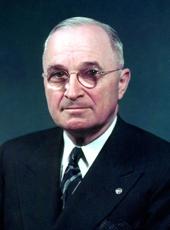 Proclamation 2660—Victory in the East—Day of Prayer
By the President of the United States of America
A Proclamation
The war lords of Japan and the Japanese armed forces have surrendered. They have surrendered unconditionally. Three months after victory in Europe victory has come in the East.
The cruel war of aggression which Japan started eight years ago to spread the forces of evil over the Pacific has resulted in her total defeat.
This is the end of the grandiose schemes of the dictators to enslave the peoples of the world, destroy their civilization, and institute a new era of darkness and degradation. This day is a new beginning in the history of freedom on this earth.
Our global victory has come from the courage and stamina and spirit of free men and women united in determination to fight.
It has come from the massive strength of arms and materials created by peace-loving peoples who knew that unless they won decency in the world would end.
It has come from millions of peaceful citizens all over the worldturned soldiers almost overnightwho showed a ruthless enemy that they were not afraid to fight and to die, and that they knew how to win.
It has come with the help of God, Who was with us in the early days of adversity and disaster, and Who has now brought us to this glorious day of triumph.
Let us give thanks to Him, and remember that we have now dedicated ourselves to follow in His ways to a lasting and just peace and to a better world.
Now, Therefore, I, Harry S. Truman, President of the United States of America, do hereby appoint Sunday, August 19, 1945, to be a day of prayer.
I call upon the people of the United States, of all faiths, to unite in offering their thanks to God for the victory we have won, and in praying that He will support and guide us into the paths of peace.
I also call upon my countrymen to dedicate this day of prayer to the memory of those who have given their lives to make possible our victory.
In Witness Whereof, I have hereunto set my hand and caused the seal of the United States of America to be affixed.
Done at the City of Washington this sixteenth day of August, in the year of our Lord nineteen hundred and forty-five, and of the Independence of the United States of America the one hundred and seventieth.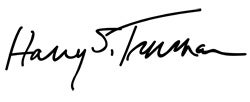 HARRY S. TRUMAN
By the President:
JAMES F. BYRNES,

Secretary of Stat
Harry S. Truman, Proclamation 2660—Victory in the East—Day of Prayer Online by Gerhard Peters and John T. Woolley, The American Presidency Project https://www.presidency.ucsb.edu/node/231321