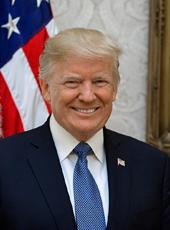 Press Release - What They Are Saying...Praise for President-Elect Donald J. Trump's Choice of Andy Puzder for Secretary of Labor
U.S. Senator Lamar Alexander (R-TN), Chairman of the Senate Health, Education, Labor and Pensions Committee
"Mr. Puzder is a respected business leader who understands how excessive regulation can destroy jobs and make it harder for family incomes to rise."
Rep. Diane Black (R-TN)
"Andy's real-world experience creating jobs in the private sector will uniquely position him to be an effective voice for our nation's workers, and I couldn't be prouder to know that a Tennessean will have a seat at the table in this incoming administration."
Robert Cresanti, President & CEO of the International Franchise Association
"Andy would be an exceptional choice to lead the Labor Department and we applaud President-elect Trump for recognizing Andy's business experience and policy acumen on so many issues impacting employers and employees in today's economy.
"Voters elected a job creator as President, it is only fitting that the Labor Department, the agency responsible for ensuring the nation's labor policy is properly balanced, should be led by someone with a proven track record for creating jobs, growing a business and opening a pathway for people to create a successful career and even business ownership.
"As CEO of a franchise company, Puzder has seen firsthand the impact of regulations promulgated by President Obama, Secretary Perez and Wage & Hour Administrator David Weil. This perspective gives him a different set of qualifications than the typical Washington insider. We are hopeful that, if confirmed by the Senate, a top priority will be rolling back the damaging effects caused by the expansion of joint employer liability to America's 733,000 franchise businesses, and the too-far, too-fast increase in the overtime threshold that was recently put on hold by a Texas judge.
"At the same time, Puzder will be able to champion how the franchise business model, which generates a higher percentage of new jobs in the economy than non-franchises, are a key part of the solution to wage growth and upward mobility that so many voters are looking for out of policymakers in Washington."
Juanita Duggan, President and CEO of the National Federation of Independent Business
"Small business owners are pleased that someone who knows what it takes to manage a successful company has been nominated to oversee the Department of Labor. Many NFIB members are franchisees, a business model that was under attack during the Obama administration. Andy Puzder understands how these actions and other labor regulations directly harm American entrepreneurs and family businesses. NFIB has multiple suits against harmful Department of Labor regulations rushed out at the end of the President Obama's term. We are hopeful that should the nominees be confirmed; he will take immediate action to halt these overreaching rules. President-elect Trump has made a good choice for this critical cabinet position."
Dawn Sweeney, CEO of the National Restaurant Association
"Andy Puzder brings much-needed business experience to the Department of Labor. He has a proven track record of turning around businesses, and his background in the restaurant industry will help foster an environment for job creation."
Rob Green, Executive Director of the National Council of Chain Restaurants
"We are very pleased that President-elect Trump has chosen a nominee with the experience, knowledge and unique leadership skills necessary for this important position. Once confirmed, Mr. Puzder will be an effective advocate for balanced federal policy at the Labor Department. That benefits all stakeholders — including chain restaurants, small businesses and their employees around the country."
David French, Senior Vice President for Government Relations, National Retail Federation
"Careers in retail and restaurants offer a path forward for millions of Americans, and hiring an employer from this sector for the important role of labor secretary would show that President-elect Trump knows the value of these opportunities. Andrew Puzder is someone with the real-world experience to understand workforce issues and how jobs are created. Mr. Puzder has been an ally in our efforts to emphasize the dynamic careers available in the retail and restaurant industries, and he would bring to the job his experience in balancing the needs of all stakeholders in the American workforce. NRF is committed to long-term investments in workforce development and we look forward to working with him to advance a strong pro-jobs agenda in Washington."
Alfredo Ortiz, President, Job Creators Network
"Mr. Puzder would provide welcome relief for the small business community that has had to endure years of regulatory assault. He is someone who deeply understands the Labor Department regulatory burden facing job creators because it is one that he lives with every day running two of the nation's most popular restaurant franchises."
Eric Williams, Chief Operating Officer of CKE Restaurants Holdings, Inc.
"I congratulate Andy Puzder for his nomination by President-elect Donald Trump to serve our nation as Secretary of Labor. As someone who has worked with CKE for more than three decades – from a restaurant crew member, to my current position as COO – I have personally witnessed the leadership Andy has demonstrated since he became CEO in 2000. He has always led CKE as an entrepreneurial company maintaining a focus on hard work and motivation instead of bureaucracy and red tape. Andy is someone who understands workers, their motivation, and what employees need in terms of job fulfillment and opportunities. Andy's leadership has provided growth opportunities for me and many others within our organization, and I know he will be steadfast in promoting the welfare and success of all hard working American citizens in this new role."
Troi Wierdsma, Carl's Jr. Owner in San Francisco
"Andy Puzder's nomination as Secretary of Labor has given me even more faith in President-elect Trump's commitment to leading America back to prosperity. I have seen numerous positive character traits in Andy while working with him at Carl's Jr as a restaurant owner and franchisee for the past 13 years: he is solid on his word, sincere in his approach, and very driven to overcome whatever challenges may come his way. He sincerely cares as much about our cashiers as he does about the restaurant owners. His desire for fairness, his foresight, and his vision will help make nationwide economic prosperity an achievable destination. His work ethic has been an inspiration to all of us who have worked alongside of him, and it has been a pleasure to learn from the best of the best. I know he is going to do an outstanding job as President-elect Trump's Secretary of Labor."
Donald J. Trump, Press Release - What They Are Saying...Praise for President-Elect Donald J. Trump's Choice of Andy Puzder for Secretary of Labor Online by Gerhard Peters and John T. Woolley, The American Presidency Project https://www.presidency.ucsb.edu/node/319906