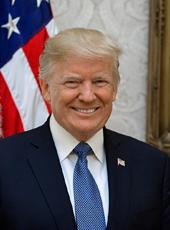 Press Release - What They Are Saying....More Praise for Rex Tillerson as Secretary of State
Former Secretary of State James A. Baker III:
"Rex Tillerson, who is a friend of mine, is an excellent choice to head the State Department and has an opportunity to be a very effective Secretary of State. As CEO head of one of the world's largest and best-run companies, (he) has demonstrated the management and negotiating skills, and has the international experience, that are required for the job. Further, I am confident he will understand the global challenges facing the United States and has the intellect the address them. I first expressed my support for Tillerson's nomination to members of President-Elect Donald Trump's transition team on Monday afternoon, Dec. 12, when they reached out to me about the possibility of a Tillerson nomination."
Former Arkansas Governor Mike Huckabee:
"I trust President-elect Trump to assemble the team that he is confident will give America our strongest ability to restore America's greatness. His selection of Rex Tillerson is another example of recruiting people of extraordinary skill and accomplishment. How refreshing to have people with real world success rather than simply rounding up some academics with big ideas but very small accomplishments. Think tank theorists are useful to design the craft, but to complete the mission, we need people who have actually flown the craft."
Former Florida Governor Jeb Bush:
"In the interview with WJLH, Bush also praised Rex Tillerson, Donald Trump's nominee for secretary of state, saying the Exxon Mobile CEO has 'vast experience.' He called Tillerson a 'patriot' who will 'represent the interests of United States really, really well. But (the Senate) will have the chance to discuss all these things in an opening hearing. That's how the process works.'" Tampa Bay Times
Senator Jim Inhofe (R-OK):
"I am pleased by President-elect Trump's announcement to nominate Rex Tillerson to be our Secretary of State," Inhofe said. "I have known Rex for years and think he will be great for this position. He is an accomplished leader who has proven himself on the world stage as ExxonMobil's CEO. His business acumen will provide a welcomed, fresh look at how the State Department conducts its business, and I am confident he will leverage our global leadership position to strengthen the United States and our allies around the world. I look forward to discussing my national security concerns with him and working closely with him in the coming years."
Senator Johnny Isakson (R-GA):
"Mr. Tillerson has an impressive background with unique experience and extensive knowledge of working in a global environment. I congratulate Mr. Tillerson on his nomination, and I look forward to meeting with him during the confirmation process to learn more about how he views the world and America's national interests."
Representative Michael Burgess (R-TX):
"I commend President-Elect Trump on his nomination of Rex Tillerson as Secretary of State. This prominent position in the Administration is tasked with the delicate balance of working to ease tensions around the globe while also ensuring U.S. national security and a strong foreign policy agenda. Mr. Tillerson, a constituent on mine in the 26th district of Texas, has worked extensively with foreign leaders cultivating relationships that will only prove to benefit U.S. interest around the world. From the pipelines to platforms, his experience leading the global efforts of one of America's most successful companies has equipped him with the understanding and insight to navigate the current world stage. Congratulations to Mr. Tillerson on this honorable nomination."
Andrew Bowen, American Enterprise Institute:
"Rex Tillerson Is A Strong Choice To Be America's Next Top Diplomat." Newsweek
American Petroleum Institute President and CEO Jack Gerard:
"Rex Tillerson is world class. He has decades of experience working with global leaders and overseeing the creation of thousands of jobs He understands that American voters want to strengthen our national security, grow jobs, and protect American interests globally.
"As our nation's next top diplomat, Rex has the strategic experience to effectively represent the new administration and the American people. He runs one of the largest companies in the world that operates in more than 50 countries, oversees over 75,000 employees, and he has first-hand experience working on international issues. His relationships and in particular those with other nations will help further advance U.S. interests across the globe.
"We congratulate Rex on being nominated and look forward to working with him, the incoming administration, and the new Congress on common sense policies that protect the environment, create jobs, and strengthen our economy."
Senator David Perdue (R-GA), chairman of the Senate Foreign Relations Subcommittee on the State Department and USAID Management, International Operations, and Bilateral International Development:
"While this may seem like a nontraditional choice, after eight years of foreign policy setbacks, we will need to make some bold changes to help re-establish American leadership and credibility around the world. Rex Tillerson has spent his career overseeing one of our nation's largest companies and growing its presence around the world. As both a business guy and chairman of the subcommittee that oversees State Department management, I look forward to hearing from Mr. Tillerson, examining his goals for the State Department, and learning more about his perspective on the global security crisis we face today."
National Association of Manufacturers President and CEO Jay Timmons:
"President-elect Trump has chosen an expert negotiator to run the business of American diplomacy. A great friend to the National Association of Manufacturers, Rex Tillerson has spent his life making deals and getting results; now he can put his incomparable experience, talents and connections to work on behalf of our entire country. Manufacturers are encouraged to see a leader from the manufacturing economy take on the role of America's chief diplomat, and we are pleased that Rex will bring a business perspective to the State Department.
"Beyond his rock star business credentials, Rex has been a staunch force for the dignity and opportunity of all citizens, and will no doubt work to make our nation and our world a better place. For all of his stellar accomplishments, Rex and his wife Renda are incredibly humble, decent and relatable people of the highest character. I wish them both the best in this important endeavor, and much success in the critical work that is ahead for Rex."
North America's Building Trades Unions:
"For almost a decade, North America's Building Trades Unions have had the opportunity to work closely with Rex Tillerson in his current capacity as the Chief Executive Officer of Exxon Mobil. During that time working directly with him, and also in conjunction with the Oil & Natural Gas Industry Labor-Management Committee, Mr. Tillerson demonstrated a strong intellect, a resilient and dynamic grasp of both global and domestic policy issues, and a deep and unyielding sense of patriotism for our great nation.
"Rex Tillerson has successfully shepherded Exxon Mobil through very tumultuous times in terms of global geo-politics. With his intellect, his wit, and his deep understanding and knowledge of the world as it exists today, we believe he will be a tremendous success as Secretary of State, and we offer our full support for his confirmation."
Donald J. Trump, Press Release - What They Are Saying....More Praise for Rex Tillerson as Secretary of State Online by Gerhard Peters and John T. Woolley, The American Presidency Project https://www.presidency.ucsb.edu/node/320011