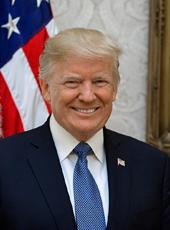 Press Release - What They Are Saying: President-elect Donald J. Trump's Housing and Urban Development Nomination Garners Support
(WASHINGTON) - Influential leaders are speaking out in support of Dr. Ben Carson upon the announcement that President-elect Donald J. Trump will appoint him Secretary of Housing and Urban Development of the United States.
Dr. Carson is a distinguished national leader who overcame his troubled youth in the inner city of Detroit to become a renowned neurosurgeon famous for successfully separating conjoined twins. Dr. Carson is an outsider bringing a fresh perspective to an agency riddled with overgrown bureaucratic largess.
Statements of support from elected officials and leaders from the housing community came pouring in Monday, pointing the way to a smooth confirmation process. Here's what they're saying...
Senate Majority Leader Mitch McConnell:
"We appreciate Dr. Carson's willingness to take on such a challenging task at an agency that is in need of reform to better serve all Americans. I'm confident his life-long career of selfless service will be a positive addition to the incoming administration."
Scott Olson, Executive Director, Community Home Lenders Association:
"CHLA congratulates Dr. Ben Carson on his nomination to be HUD Secretary. We urge him to focus on continuing the strong progress in FHA's financial health, and on ending the overcharging of FHA premiums, by taking prompt steps to cut annual premiums and end the Life of Loan premium policy instituted three years ago."
William Brown, President, National Association of Realtors:
"We congratulate Dr. Carson on accepting this important challenge and wish him the very best of luck in meeting the task ahead. While we've made great strides in recent years, far more can be done to put the dream of homeownership in reach for more Americans."
David Stevens, President and CEO, Mortgage Bankers Association:
"On behalf of the MBA I want to congratulate Dr. Ben Carson on being chosen to be nominated as the Secretary of HUD. Housing is one of the largest contributors to the health and success of the overall economy, and as such we must continue to recognize its significance.
"MBA looks forward to working with Dr. Carson in helping to build out a well-rounded team of housing experts, with a deep technical understanding of the issues, at HUD, FHA and Ginnie Mae. MBA wishes Dr. Carson and the rest of the administration success as they get ready to embark upon these next four years."
Ed Brady, Chairman, National Association of Home Builders:
"NAHB congratulates Dr. Carson on his nomination as HUD secretary. He is a thoughtful leader who is sure to assemble a professional team of policy experts and be a great spokesperson for housing. Upon his confirmation to the Cabinet post, NAHB looks forward to working with Dr. Carson to promote pro-housing policies that support homeownership, provide rental housing opportunities for low- and middle-income households, and remove regulatory barriers that are needlessly raising housing costs for hard-working American families."
The National Multifamily Housing Council (NMHC) and National Apartment Association (NAA):
"NMHC and NAA congratulate Dr. Carson on his selection as HUD Secretary. As the voice of an industry that contributes $1.3 trillion annually to the economy, represents more than 12 million jobs and the 39 million who live in apartment homes, NMHC and NAA are looking forward to working with President-elect Donald Trump and his nominee for Secretary of HUD."
Chris Estes, President and CEO, National Housing Conference:
"Having access to an affordable home is the foundation for good health, educational success and opportunity for all Americans, and Dr. Carson has the ability to make a significant positive impact on the lives of millions of Americans through a strong commitment to the vital work of this agency.
"We look forward to learning more about President-elect Trump's and Dr. Carson's vision for housing and community development policy and to working with the agency to help meet the housing needs of all in America."
Former Representative Rick Lazio (R-NY):
"Dr. Ben Carson has an inspirational life story. He transcended the challenges that confronted him growing up in poverty in Detroit, became one of the most gifted pediatric neurosurgeons in the world, and, in the process, became a national role model. He can now take his experiences, intellect, and leadership qualities to focus attention on the silent and growing housing crisis that is facing America.
"I had a lengthy and detailed discussion with Dr. Carson over the past few days, and I am impressed by his passion for housing issues and his determination to meet the many growing challenges facing HUD.
"As someone who has spent years fighting for more and better affordable housing, I'm excited by the prospect of Dr. Carson mobilizing support to confront this silent crisis.
"During our discussion, I was impressed by Dr. Carson's exceptional intellect and commitment to find solutions that break the back of entrenched poverty in America. Under Dr. Carson, HUD is positioned to provide critical leadership in meeting president-elect Trump's goal of revitalizing America's communities. He is an innovative thinker and an articulate and effective spokesperson. Under his leadership, HUD can be a part of the solution to the housing challenges of our nation."
Donald J. Trump, Press Release - What They Are Saying: President-elect Donald J. Trump's Housing and Urban Development Nomination Garners Support Online by Gerhard Peters and John T. Woolley, The American Presidency Project https://www.presidency.ucsb.edu/node/319798