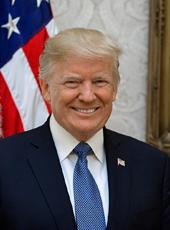 Press Release - What They Are Saying: Leaders Praise President-Elect Trump's Nomination of Governor Terry Branstad to be Ambassador of China
Sen. Chuck Grassley (R-IA)
"Governor Branstad is a friend and colleague and someone I know very well. As the long-time governor of Iowa, he understands the global nature of the state and national economies. Governor Branstad understands China, having been there on numerous trade missions and having a friendship with President Xi Jinping. He's the longest-serving governor in our nation's history. Iowans have chosen him for his successful track record as the chief executive, his trustworthiness and his reputation as a straight shooter. Those attributes would serve the United States very well if he's confirmed for this position. He ought to be confirmed very easily."
Sen. Joni Ernst (R-IA)
"President-elect Trump has made an excellent choice in nominating Governor Terry Branstad as the United States Ambassador to China; his experience with China speaks for itself and he will excel in this new role," stated Ernst. "Having worked alongside the Governor for many years, I know he will exemplify the same leadership, thoughtfulness, and dedication in his role as Ambassador to China on behalf of the United States as he did for the people of Iowa. I'd like to congratulate Terry, his wife Chris, and their children, and wish them the very best as they embark on this new adventure."
Lu Kang, Spokesman for the Foreign Ministry, People's Republic of China
"Mr. Branstad is an old friend of the Chinese people and we welcome him to play a greater role in promoting Sino-US relations. The US ambassador to China is an important bridge between the US government and the Chinese government."
The Republican Governor's Association
"Governor Terry Branstad is an exceptional choice by President-elect Trump to represent America as U.S. Ambassador to China," said RGA Chairman Governor Scott Walker. "In his nearly 22 years as Iowa's chief executive, Governor Branstad has consistently strengthened his state, and now as our nation's top liaison to China, he'll help strengthen American interests abroad. The RGA congratulates Governor Branstad on his selection and looks forward to his leadership on the world stage.
Paul E. Schickler, President, DuPont Pioneer
"Governor Branstad is a smart choice for U.S. Ambassador to China. It will be good for the United States, good for China and good for Iowa. The governor brings two important strengths to this role: strong existing relationships with China at multiple levels and experience as a leading advocate for trade. These strengths will benefit international commerce and help further advance China's goal of modernizing its agricultural industry. I fully support Senate approval of the governor's appointment."
Jay Timmons, President and CEO of National Association of Manufacturers (NAM)
"Terry Branstad is the perfect pick for this important position. Working closely with Gov. Branstad and his outstanding team for many years, I know he is a man true to his word and has been tested over and over again as Iowa's chief executive, said Timmons. From leading his state out of tough economic times to balancing Iowa's budget, he understands what manufacturers and businesses need to invest and grow—and has a proven record of results.
"The governor's deep understanding of China, and close relationship with Chinese President Xi Jinping, uniquely qualifies him for this vital post. For manufacturers, China stands as one of our largest trade and investment partners, but it is also a major challenge, imposing a range of market-distorting policies and practices that impact manufacturers in the United States, said Timmons. I have full confidence that Gov. Branstad will help forge a strong U.S.–China relationship that is based on the principles of fairness, respect and, most importantly, the rule of law. He understands that manufacturers are committed to building meaningful ties with China—but will not settle for anything less than a free and fair competitive landscape where both countries are playing by the same rules."
Mary Andringa, Chairman of the Board of Vermeer Corporation
"As the leader of an Iowa-based equipment manufacturer, I have worked closely with Gov. Branstad over the course of his many years of service to the state of Iowa," said Andringa. "The governor is a pragmatic and inclusive leader who knows how to bring people together to solve problems and pursue opportunities. He has more than 30 years of experience working closely with Chinese leaders and has proudly hosted them in Iowa on numerous occasions. The governor knows the importance of a strong and constructive relationship with one of our largest trading partners, and he has the experience needed to represent us effectively in Beijing."
Siva Yam, President, U.S. - China Chamber of Commerce
"Governor Terry Branstad is an excellent choice. President Xi Jinping lived in Iowa for three weeks, and he has a special relationship with Governor Branstad and a passion for the State of Iowa. Governor Branstad has made a number of trips to China and visited President Xi on a number of occasions. China is in the heart of Governor Branstad, and he understands how important China is for the U.S. In a country that personal relationship (Guanxi) is paramount, this will help to bridge the differences between the two greatest nations in the world. I can tell you that this is an excellent choice that could only be made with in-depth research and good understanding of the socio-political elements."
Neil Dierks, CEO of the National Pork Producers Council
"I have no doubt that Gov. Branstad will be a great ambassador to China, and with his background, it will be good for our industry, good for agriculture and good for rural America and the country at large. President-elect Trump couldn't have made a better pick for this important post."
Robert Hormats, Former Under - Secretary of State
"It's a good pick because he knows President Xi, he can represent the heartland of the United States, which I think is very positive, and the fact that President Xi has been in his state twice is a very positive thing…It creates a personal relationship that is very hard to replicate."
Donald J. Trump, Press Release - What They Are Saying: Leaders Praise President-Elect Trump's Nomination of Governor Terry Branstad to be Ambassador of China Online by Gerhard Peters and John T. Woolley, The American Presidency Project https://www.presidency.ucsb.edu/node/319913