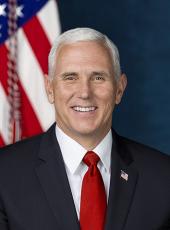 Press Release - Vice President Mike Pence Announces Andrea Thompson as National Security Advisor
WASHINGTON, DC – Vice President Mike Pence today announced the appointment of Colonel Andrea Thompson (U.S. Army - Retired) as Deputy Assistant to the President and National Security Advisor to the Vice President.
"Colonel Thompson brings a wealth of knowledge as a career military intelligence officer and combat veteran to her role as my National Security Advisor," said Vice President Pence. "She has a deep understanding of the complex challenges that face the United States at this juncture in history and is uniquely qualified to serve in this important role."
Thompson brings more than 25 years of service in the U.S. military to her new role, including deployment on multiple combat tours such as: Intelligence Directorate/J2 Chief of Staff in Afghanistan, Senior Intelligence Officer for Multi-National Division (North) in Iraq, and additional tours in Iraq, Bosnia and operational deployments around the world.
Thompson previously served as the National Security Advisor for the U.S. House of Representatives Committee on Homeland Security, the Executive Officer to the Under Secretary of the Army and the Senior Military Advisor to the U.S. House of Representatives Foreign Affairs Committee.
Thompson graduated with honors from the University of South Dakota, Long Island University and National Defense University. She previously served as the Director of the McChrystal Group Leadership Institute and is the co-author of the book Achieving Victory in Iraq: Countering an Insurgency.
Vice President Pence also announced additional members of the Vice President's staff.
Daris Meeks, Deputy Assistant to the President and Director of Domestic Policy for the Vice President
Sarah Makin, Deputy Assistant to the President and Director of Public Engagement and Intergovernmental Affairs for the Vice President
Marc Lotter, Special Assistant to the President and Press Secretary to the Vice President
Andeliz Castillo, Special Assistant to the President and Deputy Director of Public Engagement and Intergovernmental Affairs for the Vice President
Stephen Ford, Special Assistant to the President and Director of Speechwriting for the Vice President
Jonathan Hiler, Assistant to the Vice President and Director of Legislative Affairs
Mark Paoletta, Assistant to the Vice President and Counsel
Matt Morgan, Deputy Assistant to the Vice President and Deputy Counsel
Lani Czarniecki, Deputy Assistant to the Vice President for External Affairs
Mike Boisvenue, Deputy Assistant to the Vice President and Director of Administration
Robert Peede, Deputy Assistant to the Vice President and Director of Advance
Meghan Patenaude, Deputy Assistant to the Vice President and Director of Scheduling
Kara Brooks, Deputy Assistant to the Vice President and Communications Director to the Second Lady
Sara Egeland, Deputy Assistant to the Vice President and Policy Director to the Second Lady
Zach Bauer, Special Assistant to the Vice President
Mike Pence, Press Release - Vice President Mike Pence Announces Andrea Thompson as National Security Advisor Online by Gerhard Peters and John T. Woolley, The American Presidency Project https://www.presidency.ucsb.edu/node/351081