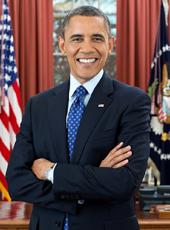 Press Release: The President-Elect Announces More Key White House Staff
WASHINGTON – Today, President-elect Barack Obama announced the following White House staff: Danielle Crutchfield, Director of Scheduling for the President; Marvin Nicholson, Trip Director for the President; Emmett Beliveau, Director of Advance; and Patrick Dillon, Deputy Director of Political Affairs.
The following announcements were made today:
President-elect Obama said, "I am pleased to announce the addition of these individuals to my team. Danielle, Marvin and Emmett played key roles on my campaign team and I will rely on their talent and expertise in the White House. My administration also will benefit from Patrick's experience and I'm pleased to have him joining our team. I look forward to working with all of them in the years ahead."
Danielle Crutchfield, Director of Scheduling for the President

As Deputy Director of Scheduling for the Obama campaign, Crutchfield oversaw the execution of the President elect's day to day schedule and was responsible for managing a wide range of complicated planning including the President's foreign trip in July, the coordination of the schedules of all four principals and the management of state scheduling operations. Prior to joining the Obama Campaign, Crutchfield worked as a staff assistant and later as Deputy Scheduler for Senator Maria Cantwell. She also spent a year working for Paul Begala. Crutchfield grew up in Seattle, Washington and she is a 2003 graduate of Hampton University.
Marvin Nicholson, Trip Director for the President

In 1998, while working at a surf shop in Boston, Massachusetts Nicholson first met Senator John Kerry. After meeting again at the end of the summer Kerry offered Nicholson an internship in his Washington Senate office. Around the same time Nicholson was offered a caddie slot at the famous Augusta National Golf Club, home of the masters delaying his arrival in Washington. He worked for two years as Senator Kerry's personal assistant before leaving in 2003 to hit the campaign trail as Kerry's "Body Guy." Following the 2004 election, Nicholson returned to Washington and spent the next two years working as Kerry's personal assistant/trip director. In Febuary 2007, following Kerry's announcement that he would not seek another run for the Presidency, Nicholson joined the Obama Campaign as the National Trip Director.
Emmett Beliveau, Director of Advance

Beliveau is the Executive Director and CEO of the Presidential Inaugural Committee 2009.Before his current assignment, Beliveau served as the Director of Advance for President-elect Barack Obama's presidential campaign where he oversaw hundreds of major events. Before joining the Obama Campaign, Beliveau practiced law in Washington, D.C. He also held staff positions on the presidential campaigns of Vice President Al Gore and Senator John Kerry, and served as a Research Fellow for the Denmark-based Organization for Security and Cooperation in Europe. Beliveau is a graduate of Colby College in his home state of Maine and of the Georgetown University Law Center. He lives with his wife and daughter, who was born the day before Election Day, in Washington, D.C.
Patrick Dillon, Deputy Director of Political Affairs

Dillon has served as Chief of Staff to Iowa Governor Chet Culver since 2006. Prior to that, he was campaign manager for Culver's gubernatorial campaign. Previously, Dillon was a national political advisor to former Senator John Edwards, and across a decade of campaign experience, has served in senior roles with campaigns including Edwards' 2004 presidential campaign, former Senator Tom Daschle, Iowa Congressman Leonard Boswell, and the winning Virginia gubernatorial campaign of Senator Mark Warner. He began his career with the progressive think tank and advocacy group NDN/New Democrat Network. A native of Texas who calls Iowa home, he received a B.A. in Government from Georgetown University.
Barack Obama, Press Release: The President-Elect Announces More Key White House Staff Online by Gerhard Peters and John T. Woolley, The American Presidency Project https://www.presidency.ucsb.edu/node/285873