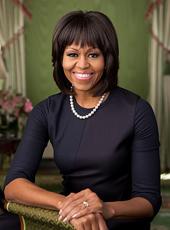 Press Release - Sesmae Street Characters to Promote Fresh Fruit and Vegetable Consumption to Kids
First Lady Michelle Obama joined by Sesame Street's Elmo and Rosita for an announcement that will help market healthier choices for families
Washington, DC – As part of First Lady Michelle Obama's Let's Move! initiative, Mrs. Obama today joined Sesame Street's Elmo and Rosita to announce that Sesame Workshop and the Produce Marketing Association (PMA) joined the Partnership for a Healthier America (PHA) in a two-year agreement to help promote fresh fruit and vegetable consumption to kids, making those healthy choices a little easier for busy parents and families to make. The agreement allows PMA's community of growers, suppliers and retailers to utilize the strength and influence of the Sesame Street brand without a licensing fee, using characters like Big Bird, Elmo, Rosita and Abby Cadabby to help deliver messages about fresh fruits and vegetables. Sesame Street characters may be on produce in stores as early as mid-2014.
The announcement comes on the heels of the first ever White House convening on food marketing to children, during which Mrs. Obama called on stakeholders to leverage the power of marketing to promote healthy products and decrease the marketing of unhealthy products to kids.
"Just imagine what will happen when we take our kids to the grocery store, and they see Elmo and Rosita and the other Sesame Street Muppets they love up and down the produce aisle," said First Lady Michelle Obama today. "Imagine what it will be like to have our kids begging us to buy them fruits and vegetables instead of cookies, candy and chips. That's what this new collaboration between Sesame Workshop and the Produce Marketing Association is all about – showing our kids that healthy food can be fun and that fruits and vegetables don't just make us feel good, they taste good too."
In her remarks, the First Lady referenced a recent study published in the Archives of Pediatrics and Adolescent Medicine conducted by researchers at Cornell University. Researchers gave kids a choice between eating an apple, a cookie, or both and the vast majority of the kids chose the cookies. But when the researchers put Elmo stickers on the apples and let the kids choose again, nearly double the number of kids went for the apple.
"It's no secret that many parents have a hard time getting kids excited about eating their fruits and vegetables," said PHA CEO Lawrence A. Soler. "Today's commitment helps all of us promote increased fruit and vegetable consumption, and gives parents and families a powerful, positive tool to help get kids excited about eating healthier foods."
"Sesame Workshop has long been committed to the health and well-being of children through our longstanding Healthy Habits for Life initiative—since 2004, we have been integrating messages about healthy food choices and exercise into Sesame Street, the television program, in our community outreach and on our other off-air activities," said H. Melvin Ming, President and CEO, Sesame Workshop. "We are proud to work with the Produce Marketing Association and Partnership for a Healthier America to continue this important work."
"One of the key challenges we face is competing for share of mind and share of plate," said Jan DeLyser, immediate past chairman of PMA's board of directors. "Other food marketers – companies who have seemingly endless budgets enabling them to position and sell their products, especially to kids – are steep competition. As a parent whose kids grew up with the Sesame Street characters, I'm thrilled to be a part of a program that will give the produce industry additional marketing opportunities for our naturally healthful products. The power of the Sesame Street brand is undeniable, especially given the trust parents have in it."
Michelle Obama, Press Release - Sesmae Street Characters to Promote Fresh Fruit and Vegetable Consumption to Kids Online by Gerhard Peters and John T. Woolley, The American Presidency Project https://www.presidency.ucsb.edu/node/351444