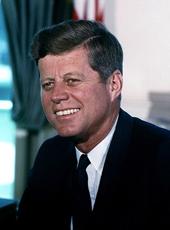 Press Release of Senator John F. Kennedy, Washington, DC
Senator John F. Kennedy announced this week that Senator Hubert Humphrey will be chairman of the National Conference on Constitutional Rights which will be held in New York City on October 11 and 12.
The conference will wind up in an open-air rally in Harlem on the afternoon of October 12 when Senator Kennedy will make one of the major speeches of the campaign.
In the original call to the conference, Senator Kennedy stated:
The conference will seek to review and clarify the positive steps needed to insure full constitutional rights for all Americans. I am inviting leaders of thought and of action to meet together to throw light on these problems. This is a good time for the rededication of the Democratic Party and the American people to the aims and principles of the Constitution.
Congressman Adam Powell of New York and Harry Golden, the author, of North Carolina will open the conference at 8 p.m. in the Park-Sheraton Hotel on October 11.
Following their remarks the conference will divide itself into three working panels: (1) Executive action, (2) legislation, (3) State and local leadership. The conferees will recess at 11 p.m. and reconvene on the morning of October 12.
Senator Joseph S. Clark of Pennsylvania and Senator Philip Hart of Michigan along with Congressmen Celler, Dawson, Nix, and Diggs will participate in the conference.
A report on the work of the conference will be made to Senator Kennedy at a luncheon in the Park-Sheraton on October 12. That afternoon at 4 p.m. the new frontiers and freedom rally will begin in Harlem.
The speakers at the rally beside Senator Kennedy include, Mrs. Eleanor Roosevelt, Gov. Mennen Williams, of Michigan, Congressman Powell, former Senator Herbert H. Lehman. A host of stars from Hollywood and New York will provide entertainment.
Mayor Robert F. Wagner of New York will act as host to the conference.
John F. Kennedy, Press Release of Senator John F. Kennedy, Washington, DC Online by Gerhard Peters and John T. Woolley, The American Presidency Project https://www.presidency.ucsb.edu/node/274568