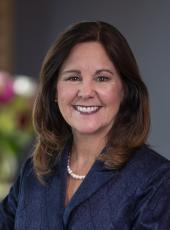 Press Release - Second Lady Karen Pence Highlights the President's Executive Order to Safeguard American's Mental Health and to Prevent Suicide
Today, Second Lady Karen Pence visited the Corporal Michael J. Crescenz Veterans Affairs Medical Center (VAMC) in Philadelphia, PA for a roundtable discussion on mental health. The discussion focused on the President's recent Executive Order (EO), signed on October 5th of this year, addressing mental and behavioral health needs and preventing the tragedy of suicide.
The roundtable participants included:
Karen Pence, Second Lady of the United States
Dr. Elinore McCance-Katz, MD, PhD, Assistant Secretary of the Substance Abuse and Mental Health Services Administration (SAMHSA)
John Lowry, Assistant Secretary, Department of Labor
Dr. Barbara Van Dahlen, Director of PREVENTS Program
Katharine Sullivan, Department Of Justice, Office of Justice Programs
Arthur Kleinschmidt, PhD, Deputy Director of the Office of National Drug Control Policy
John Kelly, PhD, Harvard University Researcher
A military spouse, service member, opioid survivor, and a pastor
Mrs. Pence delivered brief remarks and highlighted the impacts the EO will have on improving the mental health for all Americans. She also discussed her role as the Lead Ambassador for PREVENTS and the importance of prioritizing mental health and suicide prevention efforts. Following the remarks, Mrs. Pence moderated the roundtable discussion with the participants. Personal stories were shared by a military spouse, who lost her husband to suicide; an Army active duty service member; an opioid survivor, who also is a small business owner; and a pastor, who focused on how the lockdowns have impacted the mental health of members of his church. The participants who shared personal stories talked about how their lives have been directly impacted by the pandemic and lockdowns.
The EO comes at a time when many Americans are facing increased mental health problems and suicidal thoughts due to the COVID-19 prolonged lockdowns. According to a CDC study, symptoms of anxiety and depression increased significantly since the prolonged stay-at-home orders, with disproportionately worse mental health outcomes among vulnerable groups. The CDC study found 40.9% of Americans reported at least one adverse mental health condition and 10.7% reported seriously considering suicide. The Trump Administration recognizes the mental and behavioral impacts from the COVID-19 lockdowns and has prioritized improving Americans' mental and physical health.
The EO establishes a cabinet-level working group to assess the mental health needs of the elderly, minorities, children, people with disabilities, and other vulnerable groups. It draws on the resources of the Federal government to provide crisis intervention and follow-up care, and encourage safe in-person support groups and mentorship programs. It also focuses on providing grant funding to support mental health treatment services including safe telehealth, peer-to-peer, and in-person therapeutic services.
About PREVENTS
On March 5, 2019, President Trump signed Executive Order 13861, establishing a three-year effort known as the President's Roadmap to Empower Veterans and End a National Tragedy of Suicide (PREVENTS). PREVENTS recently launched their national health campaign called REACH, which aims to empower all Americans to play a role in preventing suicide. Second Lady Karen Pence serves as the Lead Ambassador. To learn more about PREVENTS, click here.
Karen Pence, Press Release - Second Lady Karen Pence Highlights the President's Executive Order to Safeguard American's Mental Health and to Prevent Suicide Online by Gerhard Peters and John T. Woolley, The American Presidency Project https://www.presidency.ucsb.edu/node/345470