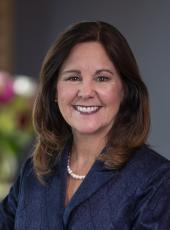 Press Release - Second Lady Karen Pence Announces Plans for Her Initiative, Art Therapy: Healing with the HeART
Washington, DC--Today, Second Lady Karen Pence announced the goals she wants to accomplish through her art therapy initiative, on the campus of Florida State University (FSU) in Tallahassee, home to a nationally acclaimed art therapy graduate education program. Mrs. Pence has named her initiative, Art Therapy: Healing with the HeART.
Ann Scott, First Lady of Florida, joined Mrs. Pence for the announcement along with John Thrasher, FSU President; Dr. Donna Betts, President of the American Art Therapy Association; Dr. Sara M. Kass, Retired Navy Captain, and Senior Military and Medical Advisor to Creative Forces: The NEA/Military Healing Arts Network; and Dr. Dave Gussak, Chair of FSU's Department of Art Education, which houses FSU's Art Therapy program.
In early May, Mrs. Pence held a brainstorming session at the White House with a group of people with diverse backgrounds and experiences with art therapy, including art therapy practitioners, art therapy clients, academics, and medical experts. The brainstorming session served an important purpose in the development of the Second Lady's initiative as she gained invaluable insight, ideas, and encouragement from the group to move forward with shining the light on art therapy.
"I chose one initiative to champion, and it is art therapy, which is near and dear to my heart," said Mrs. Pence. "It is evident when I visit art therapy programs across the United States and world, that art therapy is making a positive difference. From children with cancer, to struggling teens, to grieving families, to people with autism, to military service members experiencing Post-traumatic Stress Disorder, to those with eating disorders, art therapy is changing lives. Unfortunately, art therapy is not well-known, but I hope to change that."
"Art therapy is a regulated mental health profession that enables people to express themselves through the creative process, especially when words fail them," said Donna Betts, President of the American Art Therapy Association. "As the Second Lady's initiative shines a spotlight on art therapy, the American Art Therapy Association serves as the nation's leading resource for expanding access to art therapy services. It is my personal conviction that Second Lady Mrs. Karen Pence's initiative is a gift to all Americans and will enrich the profession so that more people can be helped, and more lives can be improved by the power of art therapy."
The Second Lady wants to achieve three goals with her initiative. They are the following:
To elevate the profession so that people understand that art therapy is a mental health profession, and not arts and crafts;
To help people understand that art therapy is an option for various conditions, illnesses, and life experiences; and
To encourage young people to go into the profession.
As part of Mrs. Pence's initiative, Art Therapy: Healing with the HeART, she will do the following:
Continue to speak publically about the benefits of art therapy
Meet with art therapists
Visit art therapy programs throughout the United States and world to acknowledge the good work taking place
Highlight art therapy academic programs
Meet with current art therapy students
Meet with art therapy clients
Share stories of art therapists and clients
Advocate for the pursuit of more research showing the scientific and medical benefits of art therapy treatment
Support, in a variety of ways, programs that benefit art therapists, art therapy programs, and art therapy clients
Following today's announcement, Mrs. Pence toured Florida State University's art therapy program. There are currently 30 students pursuing a Master's of Science degree in Art Therapy and four students pursuing the PhD degree in Art Education with a focus in Art Therapy. The university says its innovative art therapy program integrates diverse theories and research-informed practices to foster culturally sensitive graduates who understand and apply the power of the visual arts and therapeutic relationships to promote personal and community wellness.
"We are honored to help Mrs. Pence launch her efforts raising awareness of the power and value of art therapy," said Sally McRorie, Florida State University Provost and Executive Vice President for Academic Affairs. "Florida State is proud to be a national leader in art therapy research and in the educational and clinical preparation of highly qualified art therapists."
After departing Florida State University, Mrs. Pence visited Canopy Cove Eating Disorder Treatment Center in Tallahassee where they provide art therapy for people with eating disorders. Mrs. Pence met with the center's art therapist and several clients who shared artwork and discussed how art therapy has positively affected their treatment.
To stay updated on the Second Lady's art therapy program visits and stories shared about the life changing treatment, follow the Second Lady's Blog Page. To stay updated on her events, follow her on Twitter at, @SecondLady.
For more information about the art therapy profession, visit https://arttherapy.org/
Attachments: Art therapy one-pager & quote sheet
About Art Therapy
Second Lady Karen Pence chose one initiative to champion, and it is art therapy. According to the American Art Therapy Association, art therapy is an integrative mental health and human services profession that enriches the lives of individuals, families, and communities through active art-making, creative process, applied psychological theory, and human experience within a psychotherapeutic relationship. Professional art therapists who are experts in human development, psychological, and counseling theories and techniques facilitate Art therapy.
About Florida State University
One of the nation's elite research universities, Florida State University excels in the sciences, technology, arts, humanities, and professions, while embracing a philosophy of learning strongly rooted in the traditions of the liberal arts, entrepreneurism and critical thinking. Located in Tallahassee, Florida's capital city, FSU is a public, fully accredited, coeducational institution with an enrollment of about 42,000 students. Classified as a Carnegie Research 1 university, Florida State is designated as one of two preeminent universities in Florida and has climbed 10 spots in two years to No. 33 in the U.S. News & World Report rankings of national public universities.
Karen Pence, Press Release - Second Lady Karen Pence Announces Plans for Her Initiative, Art Therapy: Healing with the HeART Online by Gerhard Peters and John T. Woolley, The American Presidency Project https://www.presidency.ucsb.edu/node/351135