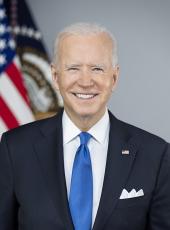 Press Release - Remarks as Prepared for Delivery by Nominee for Secretary of State, Antony Blinken in Wilmington, Delaware
President-elect Biden, Vice President-elect Harris: thank you for your trust and confidence. If confirmed by the Senate, I will do everything I can to earn it.
Mr. President-elect, working for you — and having you as mentor and friend — has been the greatest privilege of my professional life.
So many people have brought me to this day — from college classmates to bandmates, my colleagues in the Clinton and Obama administrations, in the Senate and at the State Department. I thank them and ask forgiveness for my insatiable appetite for bad puns.
Mostly, I thank my family — sisters and sisters-in law, brothers in-law, nieces and nephews, my wonderful in-laws, the Ryans — and especially my wife, Evan Ryan, and our children John and Lila. She and they are my greatest blessing.
For my family, as for so many generations of Americans, America has literally been the last best hope on earth.
My grandfather, Maurice Blinken, fled pogroms in Russia and made a new life in America.
His son, my father Donald Blinken, served in the Air Force during WWII and then as an U.S. Ambassador. He is my role model and hero.
His wife, Vera Blinken, fled communist Hungary as a young girl and helped future generations of refugees come to America.
My mother, Judith Pisar, builds bridges between America and the world through the arts and culture. She is my greatest champion.
And my late step-father, Samuel Pisar, was one of 900 children in his school in Bialystok, Poland, but the only one to survive the Holocaust after four years in concentration camps.
At the end of the war, he made a break from a death march into the Bavarian woods. From his hiding place, he heard the rumbling sound of a tank. Instead of an Iron Cross, he saw a 5- pointed White Star.
He ran to the tank. The hatch opened. An African American GI looked down at him. He fell to his knees and said the only three words he knew in English that his mother had taught him: God Bless America. The GI lifted him into the tank, into America, into freedom.
That's who we are.
That's what America represents to the world, however imperfectly.
Now, we must proceed with equal measures of humility and confidence.
Humility because most of the world's problems are not about us, even as they affect us. We cannot flip a switch to solve them. We need to partner with others.
But also, confidence, because America at its best still has a greater ability than any country on earth to bring others together to meet the challenges of our time.
That's where the men and women of the State Department — foreign service officers and civil servants — come in. I've witnessed their passion, energy, and courage to keep us safe, secure, and prosperous. I've seen them bring luster to a word that deserves our support: diplomacy.
If confirmed, it will be the honor of my life to help lead them.
Thank you.
And may God Bless America.
Remarks as Prepared for Delivery by Nominee for Secretary of Department of Homeland Security, Alejandro N. Mayorkas in Wilmington, Delaware
Good afternoon.
Mr. President-elect, Madame Vice President-elect, thank you for placing your trust in me to lead the Department of Homeland Security. Thank you for the privilege of returning, with the consent of the Senate, to government service as a member of your administration. It is the honor of a lifetime.
The Department of Homeland Security has a noble mission: to help keep us safe and to advance our proud history as a country of welcome. There are more than 240,000 career employees who selflessly dedicate their talent and energy to this mission. Many risk their lives in doing so. I would be honored to return to the Department and support these dedicated public servants in fulfilling their responsibilities and realizing our country's greatest hopes, all in partnership with the communities we serve.
For twelve years I had the privilege of standing in a federal courtroom and announcing, "Alejandro Mayorkas on behalf of the United States of America." The words "on behalf of the United States of America" meant everything to me and to my parents, whom I think of today and every day. My father and mother brought me to this country to escape communism. They cherished our democracy and were intensely proud to become United States citizens. As was I. I have carried that pride throughout my nearly twenty years of government service and throughout my life.
My parents are not here to see this day. Mr. President-elect, please know that I will work day and night in the service of our nation, to ably lead the men and women of the United States Department of Homeland Security, and to bring honor to my parents and to the trust you have placed in me to carry your vision for our country forward.
Thank you.
Remarks as Prepared for Delivery by Nominee for Director of National Intelligence, Ambassador Avril Haines in Wilmington, Delaware
Mr. President-elect and Madame Vice President-elect, I am grateful and — even more so — humbled by the trust you have placed in me for this role. I am especially honored to be standing not only by your side but also alongside some of the most talented and inspiring public servants this country has ever known.
I know, Mr. President-elect and Madame Vice President-elect, that you have selected us not to serve you, but to work on behalf of the American people — to help advance our security, prosperity, and values. That, the call to service in this role, is what makes this nomination such a tremendous honor.
If afforded the opportunity to do so, I will never forget that my role on this team is unique. Rather than that of a policy advisor, I will represent to you, Congress, and the American public, the patriots who comprise our Intelligence Community. Mr. President-elect, you know that I have never shied away from speaking truth to power, and that will be my charge as Director of National Intelligence. We have worked together for a long time, and I accept this nomination knowing that you would never want me to do otherwise — that you value the perspective of the Intelligence Community and that you will do so even when what I have to say may be inconvenient or difficult. I assure you there will be those times.
And, finally, to our intelligence professionals, the work you do — oftentimes under the most austere conditions imaginable — is indispensable. It will become even more complex because you will be critical to helping this administration position itself not only against threats such as cyber attacks, terrorism, and the proliferation of nuclear, chemical, and biological weapons but also those challenges that will define the next generation — from climate change, to pandemics, and corruption.
It would be the honor of a lifetime to be able to work alongside you once again to take on these challenges together.
Remarks as Prepared for Delivery by Nominee for United States Ambassador to the United Nations, Linda Thomas-Greenfield in Wilmington, Delaware
Mr. President-elect and Madame Vice President-elect, I am humbled and honored by the trust you've placed in me as a member of your Cabinet as Ambassador to the United Nations.
In the years we've known each other, I'm always struck by how only in America would we be where we are today. Where life can be hard and cruel, but there is hope in the struggle, there is promise in our dreams. Where you learn to believe in yourself and that anything is possible.
Like both of you, I learned that from my family. Mr. President-elect, thank you for those generous words about us. My parents had very little back in Louisiana, but they gave me and my siblings everything. I know how proud they would be of this day.
On this day I'm also missing my mentor, Ambassador Ed Perkins, who served as U.S. Ambassador to the United Nations under President George H.W. Bush and President Clinton, and who was also from Louisiana. He told me constantly, "don't undersell yourself" and would always lift me up. He passed away last week, but I know he's here today.
And on this day, I'm thinking about the American people, my fellow career diplomats and public servants serving around the world. America is back. Multilateralism is back. Diplomacy is back.
Mr. President-elect, I've often heard you say how all politics is personal. That's how you build relationships of trust and bridge disagreements and find common ground.
In my thirty-five years in the Foreign Service across four continents, I put a Cajun spin on it. It's called Gumbo diplomacy. Wherever I was posted around the world, I'd invite people of different backgrounds and beliefs to make a roux, chop onions for the holy trinity, and make homemade gumbo — my way to break down barriers, connect with people, and start to see each other on a human level: a bit of lagniappe as we say in Louisiana.
That's the charge in front of us today. The challenges we face — a global pandemic, the global economy, the global climate crisis, mass migration and extreme poverty, social justice — are unrelenting and interconnected. But they're not unsolvable if America is leading the way.
Remarks as Prepared for Delivery by Appointment for National Security Advisor Jake Sullivan in Wilmington, Delaware
Mr. President-elect, I am honored and humbled that you have entrusted me with the immense responsibility of being your National Security Adviser.
I pledge to you and to the American people that I will work relentlessly in service of the mission you have given us: To keep our country and our people safe. To advance our national interests. And to defend our values.
I pledge to the exceptional national security team you have named today — and to the brilliant and diverse career professionals in national security across our government — that I will manage a humane and rigorous decision-making process that honors their work.
And I pledge to my parents — who taught my brothers, my sister, and me to work hard, tell the truth, and serve others — that I will do my utmost to make them proud.
Sir, we will be vigilant in the face of enduring threats, from nuclear weapons to terrorism. But you have also tasked us with reimagining our national security for the unprecedented combination of crises we face at home and abroad: the pandemic, the economic crisis, the climate crisis, technological disruption, threats to democracy, racial injustice, and inequality in all forms. The work of the team before you today will contribute to progress across all of these fronts.
You have also tasked us with putting people at the center of our national security. The alliances we rebuild, the institutions we lead, the agreements we sign — all of them should be judged by a basic question: will this make life better, easier, safer, for working families across this country? Our foreign policy has to deliver for these families.
And you have tasked us with helping unite America through our work, to pull people together to tackle big challenges. My wife Maggie — the love of my life — the wisest, most principled, most patriotic person I know, served as a senior adviser to Senator John McCain. She and I share this commitment to common ground deep in our bones.
I promise an open door to those who disagree. Our whole team can learn from them and it will make us better.
To the American people, I had the honor of serving as Joe Biden's national security adviser when he was vice president. I learned a lot about a lot. About diplomacy. About policy. Most importantly, about human nature. I watched him pair strength and resolve with humanity and empathy.
That is the person America elected. That is also America itself.
So Mr. President-elect, thank you for giving this kid from the heartland an extraordinary opportunity to serve the country I love so much.
Remarks as Prepared for Delivery by Appointment for Special Presidential Envoy for Climate, Former Secretary of State John Kerry in Wilmington, Delaware
Mr. President-elect, Vice President-elect Harris:
Thank you for your generous words, and most of all thank you for the trust and responsibility of this appointment. I will do all I can to live up to your expectations, and to this moment for our country and for the world.
Secretary-designate Blinken: We've worked together for many years — on the Foreign Relations Committee and at Foggy Bottom — and it will be a pleasure to partner with you again. You will be a terrific Secretary.
Mr. President-elect — you've put forward a bold, transformative climate plan that lives up to the moment. But you've also underscored that no country alone can solve this challenge. Even the United States, for all our economic might, is responsible for only 15% of global emissions. The world must come to this table to solve this problem.
You're right to rejoin Paris on day one, and you're right to recognize that Paris alone does not get the job done.
At the global meeting in Glasgow one year from now, all nations must raise ambition together – or we will all fail, together.
Failure is not an option.
Success means tapping into the best of American ingenuity, creativity, and diplomacy — from brainpower to alternative energy power — using every tool we have to get where we need to go.
No one should doubt the determination of the country that went to the moon, cured supposedly incurable diseases, and beat back global tyranny to win World War II. We will immediately, again, work with friends and partners to meet this challenge too.
The road ahead is exciting. It means creating millions of middle-class jobs. It means less pollution in our air and in our ocean. It means making life healthier for citizens across the world. And it means we will strengthen the security of every nation on earth.
In addressing the climate crisis, Joe Biden is determined to seize the future.
Fifty-seven years ago, this week, Joe Biden and I were college kids when we lost the president who inspired us both to try and make a difference, a president who reminded us that here on Earth, "God's work must truly be our own."
President Joe Biden will trust in God, and he will also trust in science to guide our work on earth to protect God's creation.
Mr. President-elect — Vice President-elect Harris: I look forward to getting to work. Thank you.
Joseph R. Biden, Press Release - Remarks as Prepared for Delivery by Nominee for Secretary of State, Antony Blinken in Wilmington, Delaware Online by Gerhard Peters and John T. Woolley, The American Presidency Project https://www.presidency.ucsb.edu/node/347183