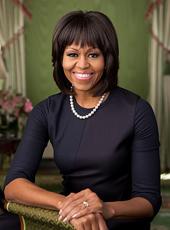 Press Release - Reebok, DC Public Schools Make Commitments to Getting Kids Active Through Let's Move! Active Schools
Mrs. Obama joined Shaquille O'Neal, Allyson Felix and Dominique Dawes to applaud new commitments and urge additional school districts to join at LetsMoveSchools.org
Washington, DC – Today, First Lady Michelle Obama visited Orr Elementary in Washington, DC for a back to school event highlighting healthy changes happening in schools and across the country. Joined by Shaquille O'Neal, Allyson Felix, Dominique Dawes, DC Public Schools Chancellor Kaya Henderson and North America Reebok President Uli Becker, Mrs. Obama praised new commitments from DC Public Schools and Reebok to get more kids moving through Let's Move! Active Schools and put out a call to action for more school districts to sign up. The First Lady highlighted new statistics showing a decline in obesity rates among young children and emphasized that our collective efforts to address this epidemic are beginning to have a real impact.
Chancellor Henderson announced that all 111 District of Columbia Public Schools have signed up for Let's Move! Active Schools, the First Lady's initiative to get schools to provide 60 minutes of physical activity a day before, during and after school. Uli Becker announced that BOKS, an initiative of Reebok and the Reebok Foundation which incorporates physical activity and nutrition into programming for kids before the school day, will provide approximately 500 schools with a grant of $1,000 each to bring BOKS to their school, giving priority to schools that are signed up for Let's Move! Active Schools. Reebok will also partner with the American Alliance for Health, Physical Education, Recreation and Dance to support Let's Move! Active Schools.
After making the announcement, Mrs. Obama and Shaq took over Orr Elementary's PA system, telling the kids how proud they were of them for eating healthy and getting active. Then Mrs. Obama joined Shaq, Felix and Dawes back in the multipurpose room for informal remarks and several fun physical activities with a few dozen of Orr's 4th and 5th graders.
"Right now, we're truly at a pivotal moment – a tipping point when the message is just starting to break through, when new habits are just beginning to take hold, and we're seeing the very first glimmer of the kind of transformational change that we're capable of making in this country," Mrs. Obama told the audience at Orr Elementary School. "And if we keep pushing forward, we have the potential to transform the health of an entire generation of young people."
"We know physical activity before, during and after school keeps students engaged and motivated and improves students' attendance, behavior and academic outcomes," said DC Public Schools Chancellor Kaya Henderson. "Providing opportunities to keep students active and healthy, coupled with strong academics and great teachers, is key to our success. At DCPS, we are proud to be among the first in the nation to have all our schools join part of the First Lady's Lets Move! Active Schools initiatives. And we are excited about how this new program will help our students achieve at the highest levels."
Since launching in February, nearly 4,000 schools have signed up at LetsMoveSchools.org to be active schools, building on the knowledge that active kids do better. Today's announcement builds on a $50 million dollar commitment from NIKE, Inc. and others to get kids active and engage 50,000 schools in the program in the next five years.
The First Lady applauded the companies saying, "It's really inspiring to see two big competitors like Nike and Reebok coming together on behalf of our kids. And I truly look forward to seeing more companies join our efforts to get our kids moving."
"The First Lady's commitment to physical activity inspires all of us to do more," said Shaq, a BOKS and Reebok ambassador. "Active kids are not only healthier, but they have better grades, attendance and behavior. Working with the First Lady and the BOKS team is something I'm very proud of."
"Active kids do better," said Felix, a Nike athlete. "Active schools will help kids succeed by creating early, positive experiences in sport and physical activity before, during, and after school."
Orr Elementary School has been a great example of what schools all across the country are doing to provide healthier environments for kids. Not only has Orr successfully implemented the new healthy school lunch standards, but they've already started providing healthier snacks in vending machines – a move all schools will make starting next school year. Orr also makes getting active a priority – in addition to participating in Let's Move! Active Schools, Orr has physical education classes and participates in BOKS.
For more information on Let's Move! Active Schools, visit LetsMoveSchools.org.
Michelle Obama, Press Release - Reebok, DC Public Schools Make Commitments to Getting Kids Active Through Let's Move! Active Schools Online by Gerhard Peters and John T. Woolley, The American Presidency Project https://www.presidency.ucsb.edu/node/351449