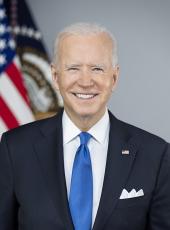 Press Release - Readout of USDA Secretary-designate Tom Vilsack's Meeting with Fruit and Vegetable Producers
Agriculture Secretary-designate Tom Vilsack today met virtually with fruit and vegetable producer groups to discuss how a Biden-Harris Administration will ensure they can thrive and be partners in providing access to nutritious, fresh food to all Americans, no matter their zip code. Secretary-designate Vilsack made clear that he will not only leverage the power of the USDA, but work across agencies and the entire federal government to advance a nutrition agenda that works for all Americans and ensures a nutritionally-secure America.
Secretary-designate Vilsack and the participants discussed the immediate need to get the COVID-19 pandemic under control, equitably and efficiently distribute vaccines for farmers and workers as quickly as possible, and ensure adequate testing, PPE, housing and other support and resources so the agriculture community can weather this pandemic. Secretary-designate Vilsack reiterated the President-elect's commitment for additional stimulus and relief and the mission of the incoming administration to work around the clock to take on this pandemic and support America's farmers and producers.
The participants and Secretary-designate Vilsack also discussed the need for immigration reform to address chronic labor shortages and ensure access to the workforce of the future. Secretary-designate Vilsack noted that the President-elect has put forward a plan for immigration reform that reflects our values and ensures key sectors of our economy, including agriculture, can grow. They also talked about the importance of rebuilding and leveraging our relationships with partners and allies and pursuing a stable trade policy that works for all Americans here at home.
They discussed the urgent threat of the climate crisis, including on the security of our food supply chain. The producers expressed their interest in being part of the solution to climate change. The producers also requested that the USDA work more closely with the Food and Drug Administration to ensure Americans have access to safe and nutritious food.
The participants noted that they are not a monolith and requested that the USDA, including its senior staff, take the time to understand the complexities of their work and the challenges they face. They noted how reassured they felt by Secretary-designate Vilsack's return to service and expressed their desire to work together. Secretary-designate Vilsack thanked them for the wealth of knowledge and perspectives they provided and committed to ongoing conversations if confirmed.
Participants joining the Secretary-designate included:
Michael Joyner, President, Florida Fruit and Vegetable Association
Robert Guenther, Senior Vice President, Public Policy, United Fresh Produce Association
Dante Galeazzi, President and CEO, Texas International Produce Association
Dale Murden, President/CEO, Rio Farms, Inc.
Eric Venturini, Executive Director, Wild Blueberry Commission of Maine
Robert Morrissey, Executive Director, National Watermelon Association
Tom Stenzel, President/CEO, United Fresh Produce Association
Dave Puglia, President & CEO, Western Growers
Diane Smith, Executive Director, Michigan Apple Committee
Lance Jungmeyer, President, Fresh Produce Association of the Americas
Diane Kurrle, Senior Vice President, USApple
Charles Hall, Founder and CEO, Association Services Group
Ian LeMay, President, California Fresh Fruit Association
Casey Creamer, President/CEO, California Citrus Mutual
Mark Powers, President, Northwest Horticultural Council
Jim Bair, President and CEO, USApple
Alicia Adler, Vice President, North American Blueberry Council (NABC) and the U.S. Highbush Blueberry Council (USHBC)
Dale Murden, CEO, Rio Farms
Rick Tomlinson, President, California Strawberry Commission
Rex Schultz, President, Michigan Blueberry Advisory Committee
Rachel Roberts, President, American Mushroom Institute
Dennis Nuxoll, Vice President of Government Affairs, Western Growers
Kasey Cronquist, President, North American Blueberry Council (NABC) and the U.S. Highbush Blueberry Council (USHBC)
Jennifer Whitlow, Membership Coordinator, Georgia Fruit & Vegetable
Julie Gordon, president/managing director, Cherry Marketing Institute
Michael Schadler, Executive Vice President, Florida Tomato Exchange
Kam Quarles, CEO, National Potato Council
Joseph R. Biden, Press Release - Readout of USDA Secretary-designate Tom Vilsack's Meeting with Fruit and Vegetable Producers Online by Gerhard Peters and John T. Woolley, The American Presidency Project https://www.presidency.ucsb.edu/node/347502