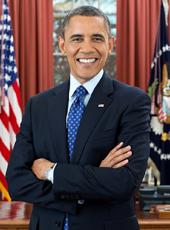 Press Release - President Obama Meets with President's Council on Jobs and Competitiveness at the White House
WASHINGTON, DC – Today, President Obama convened a meeting at the White House with the President's Council on Jobs and Competitiveness to discuss initiatives and policies to strengthen the economy, promote and accelerate job growth and bolster America's competitiveness around the world. The White House has recently implemented a number of Jobs Council recommendations, including policy steps to help support companies bringing jobs back to the United States and make government more efficient and effective.
"The Jobs Council has been critical in finding new ways to encourage the private sector to hire and invest in American competitiveness. I'm proud that we've taken action on a majority of the Council's recommendations on issues ranging from insourcing to permitting to clean energy. But we also know there's a lot more work to do, which is why we're committed to continuing to invest in strategies that support job growth."
Today, the Council presented additional ideas to spur job growth in a new Jobs Council report available on the Council's website at www.jobs-council.com. Of the 35 Council recommendations that don't require legislative action, the Administration has taken action on 33 and completed implementation on 16. Today's report highlights some of these implemented actions and focuses on new recommendations from three new streams of work focusing on long-term competitiveness:
Invest in Our Future with Education and Innovation: This strategy is focused on ensuring Americans have the right education and skills to realize their full potential, and cultivating a vibrant innovation ecosystem that supports new ideas.




Build on Our Strengths in Manufacturing and Energy: This strategy is focused on the manufacturing sector and how we can scale up and support clean energy while responsibly accessing unconventional supplies.




Play to Win through Regulatory and Tax Reform: This strategy is focused on instituting longer term regulatory and corporate tax reform to support job creation.
Several Jobs Council member companies participated in the White House "Insourcing American Jobs" Forum, including DuPont and Intel, companies that are making increased investments in the United States that are creating thousands of jobs. At the Forum, the President announced that the Administration would move forward with the Jobs Council's recommendation to expand support for the SelectUSA program out of the Department of Commerce, the first federal program to promote and facilitate investment in the U.S. in partnership with our states. Specifically, the President will be proposing, in his FY13 Budget, $12 million in new resources to increase SelectUSA to 35 full-time employees. An expanded SelectUSA will:
Build a comprehensive worldwide foreign direct investment promotion program: SelectUSA will be fully resourced to engage and assist potential investors to in the U.S. from all major global markets.




Support more than 300 investment cases per year: SelectUSA will build a case management team to oversee ombudsman and advocacy cases, enabling SelectUSA and its multi-agency investment team to work with states and cities to address issues that impede business investment.




Host a SelectUSA Conference in Washington D.C. to boost investment in the U.S.: The Administration will host a two day investment conference with all levels of government and businesses from around the world to attract companies to our shores, address issues companies face in choosing to invest in the U.S., and provide relevant information from federal agencies to support investment and insourcing jobs.
At today's meeting, the President also discussed his recent announcement to ask Congress for the authority to reorganize the government to make it more efficient and effective, and work better for the American people. The legislative proposal to create "consolidation authority" would, for the first time, require that any reorganization proposal reduce the size of government or cut costs. The Jobs Council has consistently stressed the need to embrace policies that help entrepreneurs and businesses of all sizes grow, compete and hire, while cutting costs and providing better customer service. On Friday, the President announced that, once granted consolidation authority by Congress, his first proposal would be to consolidate the six agencies focusing primarily on business and trade into a new Department with one mission: to spur job creation and expand the U.S. economy.
The President's Council on Jobs and Competitiveness was created to provide non-partisan advice to the President on ways to strengthen the economy and ensure the competitiveness of the United States. The Jobs Council is made up of representatives of various sectors of the economy who offer diverse perspectives from employers and workers in the private sector on how the Federal Government can best foster growth, competitiveness, innovation, and job creation.
The Jobs Council held their first meeting at the White House on February 24th, focusing on finding new ways to promote growth, encourage hiring, educate and train our workers to compete globally, and attract the best jobs and businesses to the United States. The Council has held two additional meetings – in the Research Triangle area of North Carolina in June and in Pittsburgh, Pennsylvania in October.
Barack Obama, Press Release - President Obama Meets with President's Council on Jobs and Competitiveness at the White House Online by Gerhard Peters and John T. Woolley, The American Presidency Project https://www.presidency.ucsb.edu/node/351729