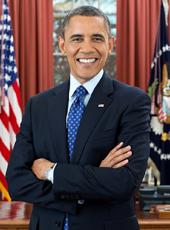 Press Release: President-Elect Obama Nominates Arne Duncan as Secretary of Education
CHICAGO -- Today, President-elect Barack Obama nominated superintendant of Chicago schools Arne Duncan as Secretary of Education.
President-elect Obama said, "In the next few years, the decisions we make about how to educate our children will shape our future for generations to come. When it comes to school reform, Arne is the most hands-on of hands-on practitioners. For Arne, school reform isn't just a theory in a book – it's the cause of his life. And the results aren't just about test scores or statistics, but about whether our children are developing the skills they need to compete with any worker in the world for any job. With his leadership, I am confident that together, we will bring our education system – and our economy – into the 21st century, and give all our kids the chance to succeed."
Arne Duncan said: "Whether it's fighting poverty, strengthening the economy or promoting opportunity, education is the common thread. It is the civil rights issue of our generation and it is the one sure path to a more equal, fair and just society. While there are no simple answers, I know from experience that when you focus on basics like reading and math, when you embrace innovative new approaches to learning, and when you create a professional climate that attracts great teachers -- you can make a difference for children."
The nomination for Secretary of Education announced today is below:
Arne Duncan, Secretary of Education

For the past seven years, Arne Duncan has served as the Chief Executive Officer of the Chicago Public Schools, where he has earned a solid reputation for confronting pressing issues in public education, such as transforming weak schools and increasing teacher quality. Prior to joining the public school system, Duncan directed the the Ariel Education Initiative, a program which seeks to create eductional opportunities for inner-city children on the South Side of Chicago. In 2006, the City Club of Chiacgo names Duncan Citizen of the Year. Duncan comes from a family of educators; his mother founded and has run a notable Chicago tutoring program for 48 years. Duncan graduated magna cum laude from Harvard University.
Barack Obama, Press Release: President-Elect Obama Nominates Arne Duncan as Secretary of Education Online by Gerhard Peters and John T. Woolley, The American Presidency Project https://www.presidency.ucsb.edu/node/285349