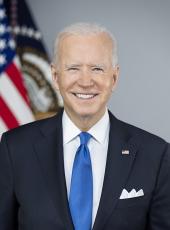 Press Release - President-elect Joe Biden's National Security and Foreign Policy Team Praised as Experienced and Historic Choices
Today, President-elect Joe Biden announced key members of his national security and foreign policy team, who were immediately praised as historic choices ready to lead on day one. The president-elect's nominees and appointees are receiving praise from a bipartisan swath of lawmakers, career diplomats and former ambassadors, top advocates and key leaders around the country and the world.
House Speaker Nancy Pelosi
"President-elect Joe Biden and Vice President-elect Kamala Harris have assembled a historic, high-powered national security and foreign policy team that will be ready to lead on Day One. This battle-tested team is trusted at home and respected around the world, bringing decades of experience and a legacy of unmatched diplomatic achievements to the critical mission of keeping the American people safe." [Statement, 11/23/20]
Senate Minority Leader Chuck Schumer
"President-elect Biden's announcement of key foreign policy & national security officials are exactly what the moment demands. They are all qualified, accomplished individuals with substantial experience serving our nation. This is the beginning of a return to competent leadership." [Tweet, 11/23/20]
Madeleine Albright, Former Secretary of State
I could not be more impressed by the national security team @joebiden and @KamalaHarris are assembling. These exceptionally talented women and men are precisely what our country needs and our future demands. The choices for the two jobs I know best are outstanding. @ABlinken understands how @joebiden sees the world and will lead @StateDept with vision and respect. @LindaT_G is a valued colleague and veteran diplomat who will restore US leadership and cooperation at the @UN [Tweet, 11/23/20]
Hillary Clinton, Former Secretary of State
"The incoming administration could not have chosen better personnel for the foreign policy and national security teams." [Tweet, 11/23/20]
Sen. Bob Menendez, Ranking Member of the Senate Foreign Relations Committee
Incredibly pleased to see President-elect @JoeBiden send a clear message of hope and American values to the world in choosing candidates that possess the qualifications, demeanor, & temperament to represent the American people at home and abroad… [Tweet, 11/23/20]
Jeff Flake, Former Senator
I'm impressed with President-Elect Biden's foreign policy picks. I've worked with both Tony Blinken and Linda Thomas-Greenfield over the years. They are consummate professionals and skilled diplomats. [Tweet, 11/23/20]
Nicholas Burns, Former Under Secretary of State for Political Affairs
President-Elect Biden's new foreign policy leadership team is impressive—experienced, deeply knowledgeable about the world, patriotic and determined to return the U.S. to lead again. All are genuine public servants. A time to hope. [Tweet, 11/23/20]
Richard Haass, President of the Council on Foreign Relations
.?@ABlinken? positioned to be a strong secstate: a relationship with his boss that allows him to speak truth to power & the authority to speak for his boss. And he brings knowledge of the issues & State Department to the job. Good man, good choice. [Tweet, 11/22/20]
Richard Fontaine, CEO of CNAS and former Sen. McCain advisor
Avril is one of the sharpest, hardest-working, and flat-out kindest people around. She'll very successfully lead the intelligence community as DNI. Bravo! (quoted tweet) [Tweet, 11/23/20]
Jake will be great as National Security Advisor. Sober, thoughtful, ecumenical in soliciting perspectives, and trusted by the President-elect. The right guy for a critical job. (quoted tweet) [Tweet, 11/23/20]
Tony Blinken will be an excellent Secretary of State. His combination of pragmatism and fidelity to American values can do much to aid the needed renewal of America's role in the world. [Tweet, 11/23/20]
Praise for Antony Blinken, Nominated for Secretary of State
Susan Rice, Former Ambassador to the United Nations and National Security Advisor
@ABlinken been my dear friend and close colleague for over 25 years. He will make a superb Secretary of State and do our nation proud. Competence, decency, strength, and respect for our career professionals are coming back to @State. #GoTony [Tweet, 11/23/20]
General Colin Powell, Former Secretary of State
I was delighted to learn that President-elect Biden has chosen Tony Blinken to be our next Secretary of State. He is a superb choice. He is an accomplished and experienced foreign policy expert. I know him well. He is a balanced diplomat with a superb reputation and will represent the United States with skill and professionalism. [Facebook, 11/23/20]
Samantha Power, Former Ambassador to the United Nations
Even as @ABlinken held some of the most powerful national security jobs in Washington, he always looked out for lower level staff and he always remained open to challenging old foreign policy assumptions. He's a great leader and an inspired choice for Secretary of State. [Tweet, 11/22/20]
.@ABlinken is an esteemed public servant and will be an excellent Secretary of State. Like @JoeBiden, he understands the U.S. at its best is a North Star in the world. I looking forward to working together to rebuild America's infrastructure of diplomacy. nytimes.com/2020/11/22/us/… [Tweet, 11/23/20]
Sen. Jack Reed, Ranking Member of the Senate Armed Services Committee
Tony Blinken will be an outstanding Secretary of State who can restore coherence, coordination, and competence to the State Department. I have travelled overseas with Tony to places like Afghanistan and Iraq and witnessed firsthand his unflappable diplomatic skill. He is a true foreign policy expert and strategic thinker with a clear-eyed understanding of world affairs and national security.Tony's leadership at State will be a force multiplier for U.S. diplomacy and projecting our core values. [Press Release, 11/23/20]
Praise for Alejandro Mayorkas, Nominated for Secretary of DHS
Sen. Gary Peters, Ranking Member of the Senate Homeland Security and Governmental Affairs Committee
Our nation faces persistent threats, both longstanding and new, including foreign and domestic terrorism, natural disasters, cyber-attacks, and now a pandemic. The Department of Homeland Security plays a critical role in addressing these threats and strengthening our national security, and it needs highly qualified, experienced and dedicated leaders, like Mr. Mayorkas – especially following years of chaos and mismanagement. I appreciate that President-Elect Biden chose to nominate a qualified candidate with extensive private and public sector security experience, including several senior positions at the Department of Homeland Security. I look forward to working with him as part of the confirmation process and finding common sense solutions to the serious threats facing our nation. [Press Release, 11/23/20]
Rep. Pramila Jayapal
This is a very strong, smart choice. @AliMayorkas knows personally what it is to be an immigrant, like me and tens of millions across our country. He led the effort to make DACA real, he will help us pass humane immigration reform & restore humanity to DHS as Secretary.#Forward [Tweet, 11/23/20]
Rep. Bonnie Watson Coleman
After 6 years of serving on the Committee On Homeland Security I'm excited by the prospect of working with a @DHSgov Sec who understands both the importance of keeping our country secure AND the plight of refugees seeking help.@HomelandDems [Tweet, 11/23/20]
Julián Castro, Former United States Secretary of Housing and Urban Development
Alejandro Mayorkas is a historic and experienced choice to lead an agency in desperate need of reform. As an immigrant and a creator of the DACA program, he's well suited to undo Trump's damage and build a more compassionate and common sense immigration agenda. [Tweet, 11/22/20]
Tom Ridge, Former Secretary of Homeland Security, 2003-2005
"DHS has been somewhat of a political piñata during this administration, so someone who has served as deputy secretary and overseen the U.S. Citizenship and Immigration Services portfolio will bring a level of confidence to staff and to Congress and will do a great job restoring morale to a much-beleaguered agency … He will hit the ground running." [Washington Post, 11/23/20]
Andrea Flores, ACLU Deputy Director of Policy
I am thrilled that the first Latino, first immigrant, and the champion of DACA will be the new leader of DHS. I have immense faith that Ali Mayorkas is up to the task of not only restoring our immigration system, but reforming it for the better. nytimes.com/2020/11/23/us/… [Tweet, 11/22/20]
Marielena Hinacapie, NILC Executive Director
BREAKING News: #Mayorkas nominated DHS Secretary! This is welcome news for the country to have one of the most exemplary public servants at the helm of DHS. Immigrants will finally have someone who sees immigrants as a strength to our nation [Tweet, 11/23/20]
Arturo Vargas, President of NALEO
Excited to learn that Alejandro Mayorkas will be nominated by @JoeBiden to lead @DHSgov @NALEO [Tweet, 11/23/20]
Todd Schulte, President of FWD.us
"As a bipartisan organization founded by leaders in the business and technology community, FWD.us congratulates Alejandro Mayorkas on this announcement and commends President-elect Biden for this choice to lead the Department of Homeland Security. This is welcome news for our country. He comes with the deep respect of the business community, national security and foreign policy experts, immigration reformers, and elected officials and career civil servants from across the ideological spectrum." [Press Release, 11/23/20]
Mary Kay Henry, SEIU International President
I'm thrilled to hear that @AliMayorkas was nominated Secretary of Homeland Security. He will hit the ground running on the broad range of issues faced by DHS from day one. I'm confident he will ensure immigrant families are welcome and safe as part of a humane immigration system. [Tweet, 11/23/20]
Latino Victory
We congratulate @AliMayorkas on his nomination to lead the Department of Homeland Security! Mayorkas is a Cuban-American lawyer who served in the Obama administration & has a wealth of experience. He will become the first immigrant and first Latino to serve in this position. [Tweet, 11/23/20]
Mayorkas is an inspiring leader who has the experience and expertise to rebuild DHS and restore credibility to the department. His nomination is also a great first step toward ensuring Latino representation at all levels of the Biden-Harris administration. [Tweet, 11/23/20]
Praise for Avril Haines, Nominated for Director of National Intelligence
Sen. Mark Warner, Vice Chairman of the Senate Committee on Intelligence
Avril Haines is smart & capable, with a background that will serve her well as Director of National Intelligence. The sooner we can get her confirmed as DNI to start fixing the damage the last 4 years have done to our intelligence agencies, the better. [Tweet, 11/23/20]
Sen. Angus King, Select Committee on Intelligence
"King said Haines is 'a smart, experienced' professional who has spoken out on the need to keep politics out of the intelligence community." [Maine Public Radio, 11/23/20]
Mike McFaul, Former U.S. Ambassador to Russia
What an all-star team! Congratulations @JoeBiden ! I personally have worked with @ABlinken @JohnKerry @jakejsullivan and @AvrilHaines and they are all absolutely first rate: smart, expert, experienced, and completely committed to advancing American national interests. [Tweet,11/23/20]
Tom Inglesby, Director of The Johns Hopkins Center for Health Security
Avril Haines has rare combination of the right experience, genuine kindness, superb intellect, integrity. And deep expertise in international and human rights law. Will be a great leader of @ODNIgov nytimes.com/2020/11/23/us/… [Tweet, 11/23/20]
Praise for Linda Thomas-Greenfield, Nominated for U.S. Ambassador to the United Nations
Sen. Jeff Merkley, Senate Foreign Relations Committee
Today's announcement is welcome news after four years that have weakened our diplomatic standing around the world and battered morale at the State Department. Tony Blinken and Linda Thomas-Greenfield are both seasoned diplomats and career public servants who will bring the deep experience, character, and respect for our country's diplomatic forces necessary to put our international relationships back on track. Press Release, 11/23/20
Sen. Bill Cassidy
Reports say Louisiana native and LSU graduate Linda Thomas-Greenfield would serve as U.S. ambassador to the United Nations under Joe Biden. Should this come to be, I want to congratulate one of our own for representing our country in front of the rest of the world. [Tweet, 11/23/20]
Rep. Joaquin Castro, House Foreign Affairs Committee
.@LindaT_G will be an outstanding @UN Ambassador — we share a commitment to a revitalized @StateDept. A career diplomat deeply admired for her experience & wisdom, her nomination by President-Elect @JoeBiden is a powerfully important message to the world. usatoday.com/story/news/pol… [Tweet, 11/23/20]
Nicholas Burns, Former Under Secretary of State for Political Affairs
If reports are true, and I hope they are, Ambassador Linda Thomas-Greenfield will represent the U.S. with real distinction at the UN. She is universally admired and respected in the Foreign Service and will help to revive American diplomacy. @LindaT_G [Tweet, 11/23/20]
Alexis McGill, President of Planned Parenthood
"With the election of Joe Biden and Kamala Harris, America chose leaders deeply committed to advancing and expanding reproductive rights — a choice with effects far beyond our borders."[Press Release, 11/23/20]
Praise for Jake Sullivan, Appointed National Security Advisor
Sen. Jeanne Shaheen, Senate Foreign Relations Committee and Senate Armed Services Committee
Great to see a Granite Stater take on this immense responsibility in the Biden admin to lead our nat'l security priorities. Congrats, Jake Sullivan. Looking forward to working w/the new admin to advance U.S. foreign policy that keeps our nation safe & preserves global stability. [Tweet, 11/23/20]
Sen. Amy Klobuchar
Congratulations to my friend, former Klobuchar staffer and fellow Minnesotan Jake Sullivan! I think back to this photo we took at your wedding with your wonderful wife Maggie, and I couldn't be more proud. America is lucky to have you as our future National Security Advisor. [Tweet, 11/23/20]Rep.
Rep. Ted Lieu
Congratulations @jakejsullivan! You will be a terrific National Security Advisor. [Tweet, 11/23/20]
Evan Osnos, The New Yorker
Worth noting that Jake Sullivan, the incoming Nat Sec Adv, has worked both foreign and domestic policy, and Biden makes a point of tying them together on issues such as China (built domestic strength to compete). Recent NSAs (e.g. McMaster, Bolton) only looked abroad. [Tweet, 11/23/20]
Praise for John Kerry, Special Presidential Envoy for Climate
Senate Minority Leader Chuck Schumer
We need bold climate action now. And Joe Biden appointing John Kerry with his experience, knowledge, dedication, and credibility on fighting the climate crisis shows the incoming Biden administration's commitment to act on climate from Day 1. [Tweet,11/23/20]
Sen. Ed Markey, Senate Environment and Public Works Committee
There simply is no one better to coordinate a bold government-wide response to the defining crisis of our time - climate change - than John Kerry. These nominees reflect tremendous leadership for our foreign policy and national security when we need it. [Tweet, 11/23/20]
Governor Jay Inslee
Congratulations @JohnKerry. He is an excellent choice to be the Special Envoy for Climate. By choosing a leader with such international esteem, President-Elect @JoeBiden has again demonstrated his deep commitment to follow science to save our planet and create millions of jobs. [Tweet, 11/23/20]
Rep. Ro Khanna, House of Representatives Armed Services Committee Member
@JohnKerry is a bold leader in the fight to tackle the climate crisis. So important he's getting a seat at the table. This is how we become the global leader in the new energy economy. [Tweet, 11/23/20]
Varshini Prakash, Sunrise Movement Executive Director
I served w/ Sec Kerry this summer on the Biden-Sanders taskforce & one thing is clear: he really does care about stopping climate change. That's something we can work with. An encouraging move from the Biden team - now I'm keeping my eyes peeled for a domestic equivalent! [Tweet, 11/23/20]
Joseph R. Biden, Press Release - President-elect Joe Biden's National Security and Foreign Policy Team Praised as Experienced and Historic Choices Online by Gerhard Peters and John T. Woolley, The American Presidency Project https://www.presidency.ucsb.edu/node/347080